[Satnews] Applied Satellite Technology (AST) is currently touring Australia with Inmarsat and bringing the latest in satellite technology innovation to users.
The 2015 events included Perth, Darwin and Brisbane and have enabled guests to speak to experts and take part in hands-on demonstrations. In 2016, the tour will continue with events in Canberra, Melbourne and Sydney.

The talks include specialists from Inmarsat, Cobham (one of their key hardware manufacturers) and Australian-based SCADA specialists Pacific Data Systems (PDS). The talks introduce Inmarsat Global Xpress, Inmarsat's high speed satellite Internet service, which is part of a 1.7 billion AUD (US$1.2 billion) project to advance satellite technology globally. Inmarsat has supplied government and mission critical communications for 30 years and is now moving into a new generation of technology. Global Xpress facilitates higher speeds for users through smaller devices.

Other Roadshow featured topics include the latest developments in satellite Radio Push-To-Talk and SCADA technologies. To read more, download detailed product information or to register your interest in one of next year's events please, use the following link: http://www.asta.net.au/satellite-news/inmarsat-solutions-roadshow-2015-2016
Executive Comments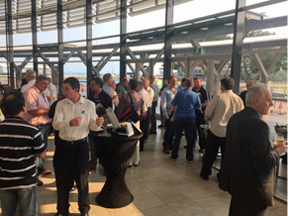 "Working closely with Inmarsat AST is providing ground-breaking technologies to enhance and improve the operational efficiency of organisations in Australia," said Richard Coston, Managing Director for AST.
"A broad range of products are on display, and the presentations are short but highly focused," said Mark Brockman, Business and Development for APAC, Inmarsat.
Stuart Dasler, the Regional Sales Manager for ANZ, said, "Very informative... fantastic!"