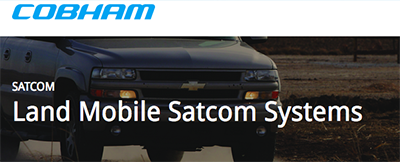 Cobham SATCOM's EXPLORER 8100 Auto-Acquire, Drive-Away Antenna System has been installed on the UK's leading-edge broadcast solutions provider Timeline TV's new 4K-uplink RF2 broadcast truck.

The new vehicle, which entered operations recently, is the latest addition to Timeline TV's fleet and was developed to augment the company's outside broadcast capabilities and improve efficiency by enabling more focus on IP based workflows.
Operational from May 7, 2018, RF2's first major project will be the royal wedding of Prince Harry and Meghan Markle on Saturday, May 19, 2018, at St George's Chapel at Windsor Castle. Timeline TV's crews will use the system for operational communication over a high bandwidth, always-on, Ka-band VSAT link, supporting the high quality broadcast of what could be the UK's most watched event in years. Afterwards, RF2 will be making a trip to the NSC Olimpiyskiy Stadium in Kiev on Saturday, May 26, 201,8 for the UEFA Champions League Final.
The 1 meter EXPLORER 8100 antenna's Dynamic Pointing Correction is key to Timeline TV's ability to leverage high bandwidth connectivity on new Ka-band VSAT networks. Unique Dynamic Pointing Correction technology can adjust in milliseconds to compensate for any rocking from the truck's suspension caused by wind or people getting in and out. Without this stabilization technology, any movement of the vehicle can degrade the signal or cause a complete loss of connection, but EXPLORER 8100 ensures a strong link at all times.
The tie-up between Cobham SATCOM and Timeline TV was enabled by Broadcast Wireless Systems, a specialist broadcast hardware and services provider that has worked with Cobham for five years and has provided Timeline with IP connectivity over satellite services for its flyaway systems and vehicle builds during a long-standing association with the firm.
On Timeline TV's decision to use the EXPLORER 8100 antenna system, Senior Broadcast Engineer Lee Wright observed that the continuous active tracking and speed of the acquisition were the major drivers behind this selection.The company also likes the way that the 8100 mounts, meaning that the unit could be removed and used remotely at a site with ease. Reliability was the main requirement, as the company works many miles from logistical suppotr the utmost confidence is required when a piece of equipment must accomplish something — the Cobham unit will do that every time.
Helen Brown, Director of Broadcast Wireless Systems, noted that the antenna auto-points in minutes and the unit's incorporated technology ensures that it stays on the satellite, even in the harshest conditions, giving Timeline TV the confidence that they will always be connected to their operational networks.