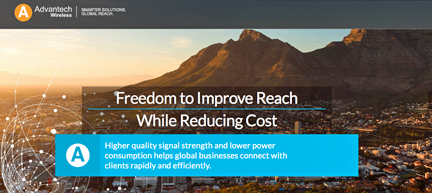 [SatNews] Advantech Wireless has launched their digital brand for innovative solutions with offerings for broadcast, aerial surveillance, military, homeland security, and disaster recovery as well as preparedness markets.
Advantech Wireless's smarter solutions give clients the freedom to reach farther, to achieve reliable connectivity anywhere in the world, and accomplish critical missions of global significance. Advantech Wireless designs turnkey terrestrial and satellite communications solutions that maximize performance and minimize operational costs, all with uncompromising quality. With its customized approach, award-winning R&D and innovative engineering, Advantech Wireless empowers clients to achieve excellence in communication, while experiencing reduced CAPEX and OPEX overall.
Under a new tagline Smarter Solutions, Global Reach, Advantech Wireless showcases its innovative solutions on its new rebranded web site http://www.AdvantechWireless.com.
These innovations solve key challenges for sectors such as military, including a first-time acknowledgement of its innovative support for aerial surveillance and drones. In addition, Advantech Wireless' award-winning GaN technology solutions facilitate cost-effective, energy-saving communications connectivity by enabling the replacement of multiple antennas and up to hundreds of TWTs/Klystrons. By achieving superior power and linearity performance, Advantech Wireless SapphireBlu™ Series of UltraLinear™ GaN technology-based SSPAs can completely saturate all transponders on any satellite using a single antenna and a single solid-state power amplifier per polarization.
David Gelerman, Founder & CEO, said, "Advantech Wireless is leading the global charge in making secure wireless broadband total solutions available to those who need them most in today's competitive and globally-connected environment. Now more than ever, innovative satellite solutions can enable faster Internet, provide smarter applications for military and homeland security usage such as aerial surveillance drones and enable connection with wider broadcast audiences in remote locations. Being on the forefront of innovation and excellence is what we are all about."
Head over to http://www.advantechwireless.com for additional information.