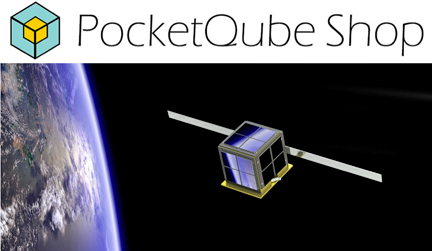 [SatNews] Now being launched by PocketQubeShop is their PocketQube MiniSatCom, which features two radio and antenna Pocketboard Boards, each with room for one MiniSatCom transceiver and a supported dipole antenna (of your choice) with deployer.
The antenna is on the back of the transceiver adapter board (this product is pending a PocketQube standard interface). The user will be able to easily reset the antenna deployment. The MiniSatCom transceiver module is not intended to integrate directly to any PocketQube standard bus, however the profile area of 30mm by 45mm allows for a full set of data pins to be integrated past the transceiver. This board will pair the radio to the PocketQube bus. Feature highlights include...
Direct control of the RF amplifier power enable, a critical feature regarding radio licensing compliance.
Powered by most satellites without customization, accepting anywhere from 3-5.5V.
Data I/O interactions at a variety of voltages, accepting anywhere from 1.8-5.5V. (built-in voltage level-shifter)
Talk about easy to use—satellite developers can use any of these communications protocols to interact with the radio:
SPI
TWI
USART
MMCX, a reliable miniature coax connector. A bypass load protects the radio if transmission are sent without an external antenna engaged
Rugged Case, the outer shell of the radio is a hard metal, ensuring durability in your lab, through launch, and in orbit
Operates at 433MHz (900MHz version in development)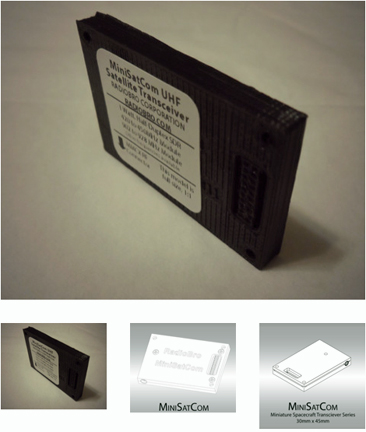 Each kit includes four transceivers: Two development transcieveres and two spaceflight-certified transcievers. Special attention has been made to the spaceflight radios, individually testing them to ensure they are space-ready. Each unit is programmed and a transmission checkout is performed, all in a class 10k cleanroom to protect the transciever. The units are then sealed and labeled.
When you receive a radio kit, use the development radios everyday. Learn and play with the units. Build a development or prototype spacecraft with these radios inside. When it gets to final flight unit assembly, open the spaceflight-certified units and plug them in. Of course perform your last checkout with these units, but treat them as flight units. The MiniSatCom radios are small enough to fit in a PocketQube, leaving plenty of room for satellite systems and experiment. The profile dimensions are 30mm by 45mm, and a thickness of approximately 6mm. Final specifications depend on the module.
The MiniSatCom transceiver is built to J-STD-001ES. This is the highest soldering standard recognized by industry, specifically oriented for long-duration spacecraft.
For more information, please visit the company's infosite at http://www.pocketqubeshop.com/