The Indian Defence ministry has approved another major induction of UAVs for armed forces, with surveillance and intelligence-gathering missions becoming critical on the western and eastern fronts as well as along the huge coastline.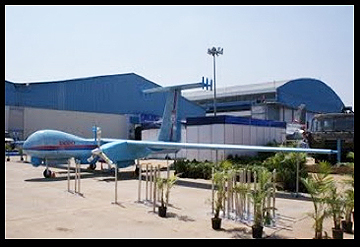 The Indian Army is going in for two more "troops" (six to eight birds each) of advanced
Heron
UAVs from Israel for Rs 1,118 crore, after getting the nod from the
Defence Acquisitions Council
headed by defence minister
A. K. Antony
. The 1.13-million strong force has also projected a requirement of seven "troops" of the
Rustom
drones being developed by
Defence Research and Development Organisation and Aeronautical Development Establishment
in a Rs 1,000 crore project with Israeli help. As a
MALE
(
medium-altitude, long-endurance
) drone, Rustom will be capable of operating for 24 hours, with a 300-km range and a 10,000-metre maximum altitude. The Army is already inducting the indigenous
Nishant
and
Lakshya
UAVs.
Similarly, the Indian Navy's case for two more Israeli UAVs at a cost of Rs 386 crore has also been approved, in addition to the ongoing Rs 1,163 crore joint project between
Israel Aerospace Industries
(IAI) and
DRDO
for
NRUAV
s (
naval rotary UAVs
). Thev Navy is already using its UAV fleet of eight
Searcher-II
and four
Herons
for maritime surveillance up to 200 nautical miles. With Army planning to induct these miniature spy drones right down to the battalion-level by 2017, it's keen they also be capable of carrying explosives for "hard kill" of "light targets".
Apart from regular infantry units,
Para
(Special Forces) battalions will also get "stealthy" drones for covert missions beyond enemy lines and counter-terrorism operations. The armed forces had gone in for a major infusion of Israeli UAVs after the 1999 Kargil conflict and the 2002 Operation Parakram in the wake of Parliament terror attack. At present, they have more than 100 UAVs, primarily Israeli ones such Searcher-II and Heron, as also some "killer drones" designed to detect and destroy enemy radars by functioning like cruise missiles. While the aim in the 11th Plan (2007-2012) period is to also induct armed drones like the American '
Predators
', which are being successfully used to take on Taliban in Af-Pak region with their '
Hellfire
' missiles, the eventual objective is to have full-fledged UCAVs (unmanned combat aerial vehicles). The plan, as of now, is to further boost the snooping capabilities of armed forces as well as fully-integrate UAVs with weapon platforms for delivering precision-guided munitions.