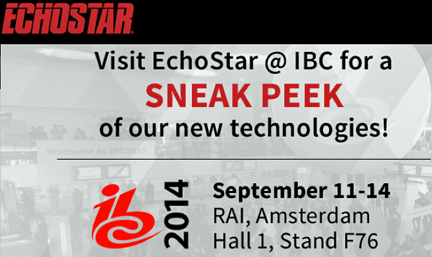 [SatNews] EchoStar Corporation, (NASDAQ: SATS) will provide IBC attendees a sneak peek of its new product for secure home automation during IBC in Amsterdam.
EchoStar and the Hopper® whole-home HD DVR have turned their engineering expertise to a new realm with this end-to-end home security and control product. Providing consumers visibility and control over their entire home ecosystem, the solution is accessible on mobile devices as well as on the consumer's television. The solution will provide an easy-to-use and affordable way for people to control, monitor, and manage the home automation and security of their homes. The product is a do-it-yourself installation that wirelessly connects the home's devices. This enables consumers to simply create and manage a custom system that fits their lifestyles with devices including thermostats, security cameras, entry point sensors, locks, lights, doorbells, and switches.
In addition, this product will offer consumers peace of mind with features that help monitor the home. EchoStar's powerful end-to-end infrastructure system uses cloud capabilities to create unique features and mobile apps for the consumer. Custom notifications about system activity and live video can be set and sent to multiple smart phones. For example, both parents can be alerted and see live video when children arrive home safely.
"We have developed an unprecedented product that will change the landscape of home automation by integrating the control center into the TV experience. We have taken a complex technology and made it so simple that anyone can use it," said Mark Jackson, president, EchoStar Technologies.
The new home automation product is expected to debut in various territories beginning in 2015. A product expert will be available in EchoStar's stand F76 in RAI Hall 1 at IBC September 12 to 16.
The EchoStar Corporation infosite is available at http://www.echostar.com/