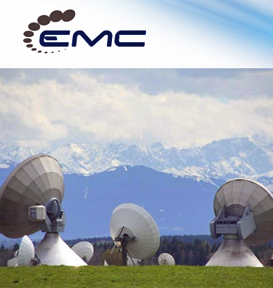 [SatNews] Global VSAT and terrestrial communications solutions provider Emerging Markets Communications (EMC) will be showcasing service and technology capabilities at the 2014 Oil & Gas Communications Europe: Big Oil, Big Data Conference presented by Global VSAT Forum (GVF).
The event takes place in Aberdeen, Scotland, on May 13-14 and is focused on "examining the role of satellite technologies and services in continuing to bring mission critical operational success to the maturing oil and gas fields of the European E&P Arenas." Now in its seventh year, the program features keynote speakers from global satellite communications technology providers and attracts top oil and gas executives to discuss technological advancements supporting offshore exploration, communications and computing development.
Emerging Markets Communications is a Guest Sponsor for this event and EMC's Product Manager for Mobility Services, Sebastián Catolfi-Salvoni, will speak as well as participate in a panel discussion around Offshore Communications, Global SATCOMs and Mobility Trends. "The Oil & Gas Communications Europe event is a great forum for EMC to demonstrate our recent expansion and presence in the oil and gas and mobility sectors, particularly in the North Sea region," says Jesus Barber, EMC Vice President of Maritime and Mobility. "With our newly opened Aberdeen office location and enhanced capabilities for reliable offshore communications technologies, EMC has a strong opportunity to make a positive impact in this market and we look forward to showcasing our capabilities and growth strategy at this conference."
EMC provides satellite communications to the energy and maritime industries, both onshore and offshore, specializing in emerging markets such as Africa, Middle East, North Sea and Brazil. EMC's offshore communications services are provided in C-band and Ku-band and are combined with value-added services, such as WiFi, GSM, VoIP, Video-on-Demand and Doctor-on-board.
The EMC infosite may be accessed at http://www.emc-corp.net/