[Satnews] GL Communications Inc. announces their enhanced High-Density Bulk Call Generator for IP and Wireless Networks—referred to as Message Automation and Protocol Simulation High Density (MAPS™ HD).
Mr. Jagdish Vadalia, a Senior Manager for Product Development, said, "GL's enhanced MAPS™ HD is a high density multi-protocol, multi-technology network appliance that performs signaling and traffic generation for a vast array of communication protocols covering IP and Wireless networks. It supports simulation of SIP UA, IMS SIP UE, SIP I+T, SIGTRAN, IuCS, MGCP, NCS, H.248/Megaco, Cisco SCCP (Skinny), GSM-A, BICC, Clear Channel (No Call Control) and provides non-reference-based voice quality measurements using E-model (R-factor) and MOS standards."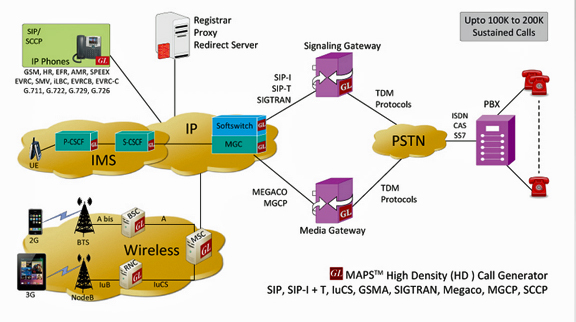 He added, "MAPS™ HD network appliance is designed to easily achieve 4 to 20,000 endpoints per 1U server. Using a stack of multiple servers, a larger test system with 100K-200K calls is achievable for enterprise to carrier grade testing. It can also measure the performance and capability of an IP network element by simulating various traffic conditions. Load generation feature further allows specifying the patterns with which the bulk calls can be generated. Load generation can be customized with different statistical distribution patterns such as Uniform, Ramp, Sawtooth, Fixed, Normal, Step, and Step-Sawtooth distribution. Call duration also can be randomized using similar statistical distribution. This feature also helps users configure Stress/Load Testing parameters such as Call per second (CPS), Max Active Call, Minimum and Maximum Call Rates, Start Call Rates, and other parameters. Regression tests can be automated and repeatable to ensure that all problems are corrected."
Mr. Vadalia further explained, "The enhanced MAPS™ HD now has the capability of QOS (C-MOS,L-MOS, PacketLoss etc) calculation on received traffic. Quality Of Service (QOS) i.e generation and detection of Digits/Tones for 1000 simultaneous calls. There is now talk and play to speaker options using PC sound card. And also the appliance has now a feature to send and Record file for all supported codecs."
He further added, "MAPS™ HD can simulate a complete protocol state machine and offers 'syntax-ready commands' to easily build scripts. It provides ready-to-run scripts for simulating important call scenarios or procedures. Its syntax-ready commands in script reduce the dependency on technically skilled resources and its re-usability of scripts, messages and profiles reduces 'time-to-market'. Customized test scenarios can be defined to build valid or invalid test cases.
User can modify any signaling messages, message parameters, and/or information elements. User can also add, modify or remove any optional parameter depending on specific feature of interest. Packet level fault insertion can be performed by impairing any bit / byte of a message. "
Other important features
· Transport over UDP and TCP, IPv4 and IPv6, and TLS for secure transport
· Unique endpoint emulation using IP address, MAC address, and VLAN tagging
· From 4 to 20,000 endpoints in a single server
· Up to 350 Calls Per Second
· Scales to around 100,000 endpoints with use of Master Controller for single point of control
· Manage 10+ MAPSTM systems with single point of control from Master Controller
· Powerful Bulk Call Generation, Scheduler, and Command Line Interface (CLI) for automation, remote control
and load testing
· Configurations, test scripts, and profiles can be saved and reused on a different systems
· Easy-to-use MAPSTM Scripting interface (UI) for test scripts to be created
· Real-time monitoring and reporting of registration and call statistics
· Statistics can be viewed on any pair of endpoints
· Export data to other applications for customized user report
Applications
· Pre- and post deployment testing of enterprise, ISP, and Carrier Networks
· Quality of Experience (QoE) evaluation as a function of signaling or traffic load or protocol variation
· Contact Center and Unified Communications: Interactive Voice Response System (IVR),
Automatic Call Distributor (ACD), routing, Computer Telephony Integration (CTI), CRM, chat, presence,
conferencing, speech, and agent desktop applications
· Security: Denial of Service, Theft of Service, traffic floods, intrusion prevention, firewalls,
intrusion detection systems, and security gateways
· Network elements: Session border controllers, network border elements, application level gateways
and deep packet inspection devices, and intrusion prevention/intrusion detection systems.