With every satellite new mission comes the demand for more functionality, which requires larger satellite payloads, pushing manufacturers to increase the size, weight and power (SWaP) of their satellite command and telemetry systems. How to increase the payload size without increasing the SWaP?
Renesas has now launched the ISL72814SEH, a radiation-hardened 16-channel current driver with integrated 4-bit decoder that offers satellite customers radiation immunity, mass and power savings.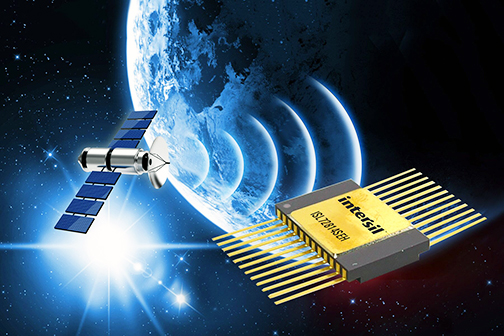 Leveraging Renesas' proprietary silicon on insulator process, the ISL72814SEH offers twice the channel count and 54 percent less VCE(SAT) power dissipation on each channel compared to competitive drivers. Integrating the decoder, input level shifter, and 16 current driver arrays in a single monolithic IC allows satellite manufacturers to significantly increase system capacity while reducing the solution footprint by 50 percent for their MEO, GEO, HEO, and deep space mission profiles.
With the ISL72814SEH, Renesas continues to expand its lineup of radiation-hardened and radiation-tolerant devices for satellite and space applications.
Note: The ISL72814SEH can also be combined with the following ICs to create a satellite command and telemetry signal processing solution with superior rad-hard performance:
ISL71590SEH temperature sensor
ISL70591SEH precision current source
ISL71840SEH 30V 16-channel multiplexer
ISL70517SEH 36V differential input in-amp
ISL70419SEH precision op amp
ISL71090SEH12 precision voltage reference
ISL72026BSEH CAN transceiver.