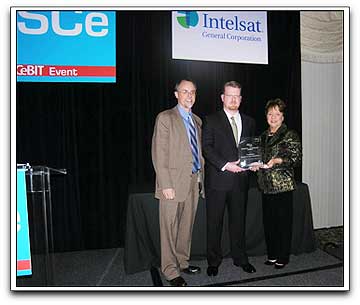 CapRock Government Solutions has received the Satellite Industry Leadership Award from the 2009 International Satellite and Communications exchange (ISCe) conference in San Diego, California.
The award is presented each year to an organization that has made significant contributions to the advancement and success of the satellite communications industry. Citing examples such as the company's history-making commercial X-band satellite services launch that has already provided over 200MHz of capacity for the U.S. Government, its recent strategic rebrand from Arrowhead Global Solutions, and the celebration of the company's one-thousandth circuit order on its
DISN Access Transport Services
(
DATS
) contract,
ISCe
recognized
CapRock Government Solutions
for its achievements as an industry leader.
"This award commemorates a series of major milestones in our evolution as a complete satellite communications services provider," said CapRock Government Solutions EVP and General Manager,
David Myers
, who accepted the award on the company's behalf. "Over the past eighteen months, our company has installed a new management team, launched a new series of products and services, and even changed its name. But perhaps more importantly, we have changed our focus to be more closely aligned with the emerging needs of our government clients." 
After being acquired in 2007 by remote communications provider CapRock Communications, Arrowhead evolved significantly, launching a new strategic vision and producing double-digit annual growth as CapRock's government division. The recent rebrand to CapRock Government Solutions marked the final assimilation and integration of the federal government-focused division into the CapRock corporate structure.