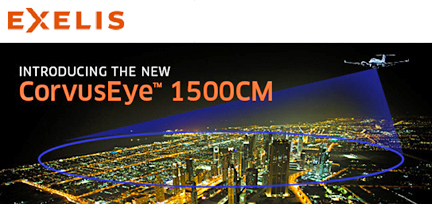 [SatNews] A new Exelis (NYSE: XLS) CorvusEye™ 1500 visible color and infrared (IR) sensor provides day and nighttime wide area airborne surveillance coverage to support the military, law enforcement, border patrol and first responders.
Developed to complement the daytime electro-optical sensor Exelis released in May, the sensors are available as an integrated end-to-end system or separately. The new CorvusEye 1500CM system complements traditional video surveillance systems and captures high-resolution, visible color and IR motion imagery during the day and night over a wide area up to 2 kilometers (1.24 miles) in diameter. The CorvusEye system can track movement that may be connected to potentially hazardous or illicit activity, as well as other trends like migratory or invasive wildlife behavior.
"The cover of darkness creates a disadvantage for surveillance," said Mike Hayes, Exelis product development director for CorvusEye 1500. "Customers are telling us that the ability to watch nighttime activities with a system like the daytime version of CorvusEye would greatly improve the ability to counter possible threats to borders, events, infrastructure and other interests."
CorvusEye can capture activity occurring simultaneously in multiple areas that might go unnoticed using traditional surveillance such as full-motion video. At 15 inches in diameter, and weighing less than 95 pounds, CorvusEye can fit on most mid-size unmanned and manned aircraft and uses standard interfaces to swap into virtually any 15-inch airframe mounting location. CorvusEye is exportable to many military, intelligence and security customers around the world.
A single CorvusEye sensor can serve as many as 10 different area views simultaneously, providing close-up details with streaming footage. The system can also quickly gather critical intelligence in support of investigations using archived footage. As an end-to-end system, CorvusEye can be used on manned and unmanned platforms and offers ground station software for live data streaming to mobile devices. CorvusEye can also be integrated with the Exelis Individual Soldier System (ISS) to provide shared intelligence on and off the battlefield. The ISS helps soldiers and commanders better adapt to evolving threats by improving situational awareness. The ISS shares imagery using Jagwire™ enterprise content management and dissemination, wide area surveillance video, direct messaging and data import via light secure goggle display and tactical radio.
The Exelis CorvusEye infosite is located at http://www.exelisinc.com/solutions/corvuseye1500/Pages/default.aspx for additional information.