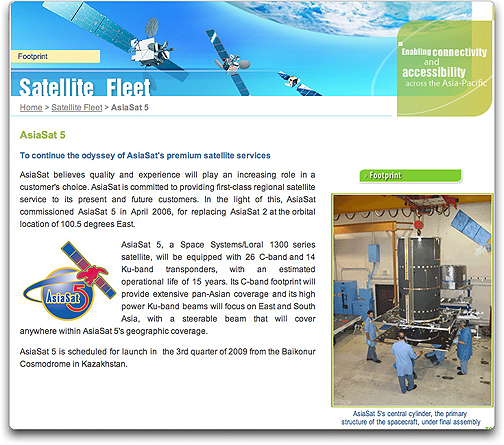 This is the third time in four years that Asia Satellite Telecommunications Company Limited (AsiaSat) was voted the Best Asian Satellite Carrier in the 2009 Telecom Asia Awards.
The prestigious award is in
recognition of the company's outstanding performance in Asia-Pacific telecommunications industr
y. The awards' winners were chosen by an independent judging panel of industry professionals, and supported by analysis from global IT and telecom consultancy firm Ovum.
Criteria for selection were based on financial performance, market leadership, technology and innovation. "AsiaSat impressed judges with its strengths across-the-board — network depth and reliability, market leadership and sound financial performance in the fact of a deteriorating economy," said
Robert Clark
,
Chairman of the judging panel
at an award ceremony in
Hong Kong
on March 27th.
Peter Jackson
,
Chief Executive Officer of AsiaSat
said, "We are proud to receive this top recognition again from our industry peers. We would like to thank Telecom Asia and the judges for this honor, and our valued customers and partners, devoted staff for their support and dedication that have made AsiaSat a well recognized market leader.
Our efforts in upholding world class service standards while continuing to grow our product and service portfolio in dynamic market conditions shall remain our focus in the coming years.
" Since its
inception in 1988, AsiaSat has been dedicated to providing high quality satellite communications services to the Asia-Pacific region
. Over the years, AsiaSat has successfully expanded its service portfolio and businesses by upgrading its space and ground network, and diversifying into other satellite related ventures. In the
third quarter this year, AsiaSat plans to launch AsiaSat 5, a replacement satellite for AsiaSat 2, with plan for AsiaSat 6 under review.