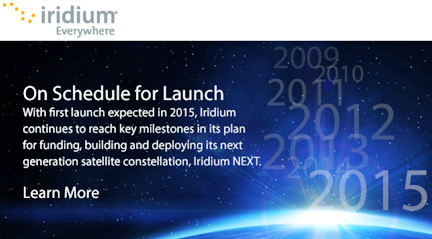 [SatNews] Iridium Communications Inc. (Nasdaq:IRDM) is on track to facilitate a new portfolio of broadband subscriber products for aviation, maritime and land mobile markets, expected to be available as early as 2016.
On July 21, 2014, Iridium issued a request for proposals (RFP) to more than 30 companies for the design, development, production and distribution of new broadband subscriber products, leveraging the higher data speeds and enhanced capabilities enabled by Iridium NEXT. Iridium will select and contract with an exclusive group of suppliers that have demonstrated engineering expertise and extensive distribution capabilities, and work with them to develop Iridium NEXT-compatible products.
Iridium's 2gen broadband subscriber technology approach is a first for the Company. Iridium is developing a new technology platform to be the cornerstone of a diverse set of new subscriber products to be manufactured and distributed by industry partners. The product architecture enables flexibility in product and antenna form factors and integration with other communication technologies and services by terminal manufacturers. Whether in the air, at sea, or on land, this new class of products will provide fully global broadband connectivity for Iridium's growing customer base.
The Iridium NEXT constellation, which is scheduled to begin launching in 2015, will be core to the future of Iridium® broadband services with a number of new and expanded capabilities. This new service will enable data speeds of up to 1.5Mbps, with the expectation that these products and services will be used for commercial, government, and safety communications. Iridium expects that the products to be developed through this process will be compatible with both the current constellation and Iridium NEXT, allowing earlier introduction and adoption by customers.
Proposals will be provided to Iridium in the coming months, and Iridium anticipates that the manufacturing partners will be selected by the end of 2014. Initial products are expected to be introduced to the market in 2016, to align with the launch of the second-generation broadband service.
With 66 low-earth orbiting (LEO), cross-linked satellites and multiple in-orbit spares, the Iridium network is the largest commercial satellite constellation in the world and is the only constellation that provides truly global coverage.
For more information on Iridium NEXT, go to http://www.iridium.com/About/IridiumNEXT.aspx