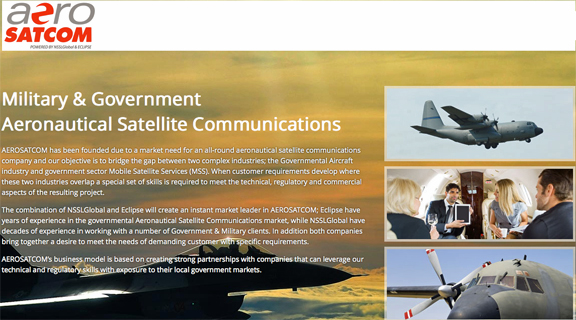 [Satnews] Aeronautical SATCOM specialist Eclipse and independent SATCOM provider NSSLGlobal have announced the formation of AEROSATCOM, created to address the needs of the rapidly-expanding government airborne satellite communications market.
This new joint venture benefits from Eclipse's strong history of provisioning airborne satellite communications solutions in combination with NSSLGlobal's extensive partner network and leading infrastructure, making AEROSATCOM an immediate contender when considering airborne satellite communications. AEROSATCOM will support re-sellers to provide global and regional solutions to their government customers.
The airborne satellite communications sector has recently received a great deal of focus in military and government markets. In recent years the market for such solutions has seen substantial growth, with a predicted growth of 14 percent for L-band and 24 percent for Ka-band.
Since 1996 Eclipse, based in Paris, France, has provided partners and end customers in the government sector with airborne SATCOM hardware, air-time, systems integration and installation certification solutions. Eclipse has developed a profound understanding of the many variables that impact the success of airborne satcom projects. And with subsidiary companies servicing the broader aerospace refit market, it is uniquely placed to help partners and customers install and operate airborne SATCOM equipment, an area where the complexities of the satellite communications and aerospace industries overlap.
NSSLGlobal, based in Redhill, UK, is a network service provider of satellite communications and IT support, committed to delivering high-quality voice and data services to customers anywhere in the world, regardless of location or terrain. The company also offers a hugely broad range of services, and has a reputation as being unparalleled in its technical expertise and 24/7 support services. On top of this, importantly, NSSLGlobal also brings to the table one of the world's best global reseller and partner networks, a network that can now be leveraged by the joint venture.
AEROSATCOM has been established as a UK-registered company and will be working with partners globally to meet the needs of government airborne customer requirements such as head of state connectivity and military operators.
Executive Comments
"In term of servicing this market it would be harder to think two companies that were more complementary," said Sally-Anne Ray, Managing Director of NSSLGlobal. "Both demonstrate considerable expertise in their respective fields. But by combining the size, breadth and partner relationships of NSSLGlobal with the incredibly strong aeronautical SATCOM experience Eclipse has to offer, we effectively create a company that is stronger than the sum of its parts. The resulting joint venture, AEROSATCOM, is now perfectly positioned to perform as a world leader in the rapidly-expanding airborne satellite communications markets."
"Over the years Eclipse has enjoyed many years of growth with the French government market, and with other EMEA based governments," said Eclipse General Manager, Marc Pinault. "However, AEROSATCOM is all about extending the reach of this success to other markets. Together, NSSLGlobal and Eclipse will be able to penetrate further in this sector, into more geographies, than both could alone, and offer an entirely new standard of expertise, reach, and capability to the airborne satcoms market."