[SatNews] The Mobile Satellite Users Association (MSUA) has presented Mobile Satellite Pioneer Awards to Sea Tel founder Robert J. Mathews and Sea Tel engineer of 26 years, Pete Blaney.
Now a product line offered by Cobham SATCOM, Sea Tel has been a driving force within the maritime SATCOM industry for more than 35 years. The awards were presented at the MSUA's recent luncheon in Washington DC. The awards recognize the pair's and Sea Tel's contribution to the development of mobile satellite technology and are specifically for 'development of the first maritime stabilized SATCOM system'. Sea Tel has been a pioneer in the maritime satellite world since it began in 1979, when founder Robert J. Matthews designed the first mechanically stabilized antenna pedestals for the fledgling INMARSAT-A mobile satellite communications system. Pete Blaney joined Sea Tel, shortly after working with Robert throughout the eighties, to further develop maritime SATCOM capabilities.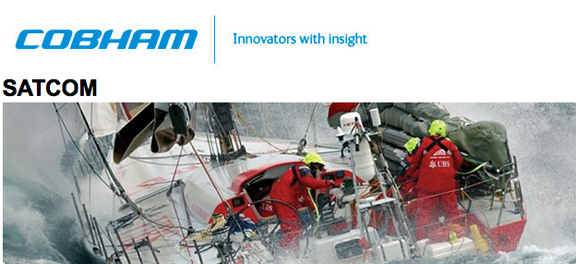 In 1993, under Pete's direction as Chief Engineer, Sea Tel introduced the first fully electronic, servo-stabilized maritime pedestal, the 1893, used by several OEM suppliers on INMARSAT Standard-M antennas. The following year, the 2494 was introduced, the first Ku-band DIRECTV stabilized maritime pedestal that allowed small boat owners to receive satellite TV under motion.
The next pioneering innovation occurred in 1996 when the Sea Tel 96 series fully closed loop stabilized pedestals were released. This advancement increased the pointing accuracy from 1.0 to 0.1 degrees allowing a Tx/Rx system to operate at Ku-Band under the most severe ship motions. The Sea Tel 9797 2.4m C-band antenna followed the next year, which became, and still is, the industry standard antenna for Maritime C-Band communications.
Sea Tel, Inc., was acquired by Cobham in 2005. While RJ left Sea Tel in 2008, Pete and the former Sea Tel R&D organization are today responsible for Cobham SATCOM's large and bespoke VSAT antennas and TVRO, which are engineered in Concord, California, and continue to be sold to customers in the merchant, offshore and yachting sector under the Sea Tel product line.
"I am proud to be a key contributor to Sea Tel's pioneering advancements in the maritime VSAT industry and honored to be presented with this award," said Pete. "As part of Cobham SATCOM, the pioneering spirit of Sea Tel products is still alive, with the recent introduction of two types of dual band antennas. Our QOR platform that uses two optimized feed and reflectors mounted 90 degrees apart and our subreflector switched antenna that uses one reflector for both bands. Both new technologies are representative of Cobham SATCOM's position at the forefront of maritime communications technology development."