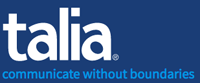 Talia International Inc., a leading communications solutions provider serving the Middle East, Africa, Europe and the Americas, has announced new C-Band services covering Latin America, the Caribbean and the United States.

This additional service uses the SES-4 satellite at 22°W and connects to the Talia MPLS network via the recently acquired iDirect hub located at COMSAT's Southbury, Connecticut Teleport. In addition, the new partnership with COMSAT, Inc. will provide teleport facilities to Talia's existing Ku-band services running on the Eutelsat 113 WA satellite. With both C and Ku-band services, customers will now benefit from greater choice and coverage.
Joel Allen, Managing Director of Talia International, who announced the new agreement added that the expansion of the firm's platform to cover the Americas using SES-4 and iDirect's 'iQ series ready' hub extends our capabilities and further supports our new affiliate, Talia Caribe Inc, in Guyana.
Chris Faletra, Director of Teleport Sales for COMSAT, noted that in the past, customers would come to COMSAT to connect equipment at multiple locations via satellite using the firm's teleports. Today, the teleports do so much more. They act as a network node, data center, meet-me point and customer support center. They are no longer a place where satellite engineers focus on antennas, RF, baseband and facilities. Today's teleports are now an extension of the customer's business ensuring they are securely connected when needed.