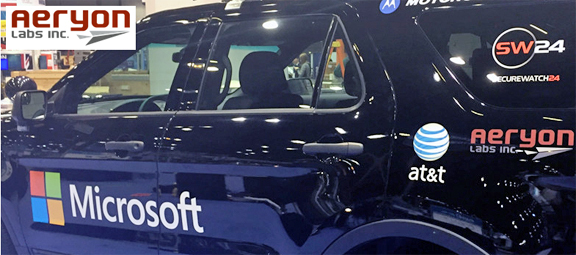 [Satnews] Aeryon Labs announces a technology partnership with Microsoft® to include Aeryon SkyRanger™ within the new Microsoft® Advanced Patrol Platform (MAPP) vehicle.
MAPP will connect its drivers to an unprecedented amount of helpful and easy-to-navigate information. Currently, patrol officers spend vast amounts of valuable time bound to their cars, clicking between windows on bulky, often dated laptops. MAPP will consolidate the many elements officers must keep track of—providing dispatch information, driving directions, suspect history, a voice activated license plate reader, a missing persons list, location-based crime bulletins and statistics, a feed of shift reports and more.
For first responders, surveillance teams and investigators, high-quality aerial imagery provides the real-time intelligence needed to assess a situation immediately, ensure safety on the ground, and capture detailed evidence and forensics. By integrating aerial images from Aeryon sUAS with other cutting-edge hardware and software solutions, the MAPP program sets a new technological standard in policing and helps officers operate with better awareness, efficiency, mobility and safety.
To learn more about this integrated solution, visit the Aeryon Labs (Booth #1836) and see the MAPP vehicle (Booth #5211) at IACP 2015 October 25-27th.
Executive Comment
"Law enforcement organizations throughout the world rely on Aeryon sUAS to collect aerial intelligence wherever and whenever they need it," said Dave Kroetsch, President and CEO of Aeryon Labs Inc. "Including SkyRanger within the MAPP vehicle rounds out the comprehensive suite of technologies and highlights the value of aerial intelligence for ground-based personnel."