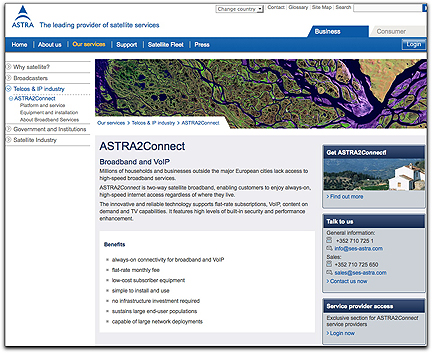 SES ASTRA, an SES company (Euronext Paris and Luxembourg Stock Exchange: SESG) has signed a further reseller agreement for the marketing of its interactive satellite-based broadband service ASTRA2Connect with the Polish telecommunications incumbent Telekomunikacja Polska S.A. (TP SA) — the roll-out of the service in Poland was started on September 1st.
Telekomunikacja Polska
, majority owned by
France Télécom
, is Poland's leading telecommunications operator. With
ASTRA2Connect
, the company will expand its extensive service offering and now also provide highly reliable, satellite-based, broadband connections for households possessing insufficient terrestrial broadband infrastructure. ASTRA2Connect will be offered in three different service packages, with download speeds ranging from 512 kbit/s to 2,048 kbit/s. The ASTRA2Connect satellite technology offers a highly reliable, always-on, interactive broadband Internet access, including internet telephony, for flat service fees. The customer premises equipment — a modem and a satellite dish — is low cost and delivered with a tool for easy self-installation. ASTRA2Connect was first marketed in early 2007 and is now available in 14 countries throughout Europe. The service is marketed via wholesalers and Internet service providers to the residential market.