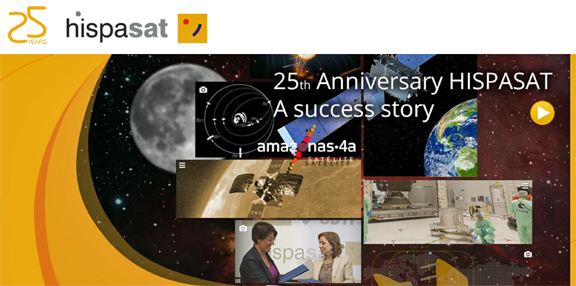 [SatNews] The Spanish satellite communications operator HISPASAT has started the selection process of the candidate projects for the Prize for the Best Telecommunications Satellite Innovation Project, which the company organized last June for its 25th anniversary.
Nineteen projects from the space industry and the academic sector were submitted for the prize. The selection stage, in which the usefulness and applicability of the innovations proposed by the candidates will be evaluated based on the prize rules, is now under way. The result of these first votes will be released in April. The five projects awarded the highest number of points will continue on to the second stage, in which the technical soundness of the submitted project will be assessed.
The jury will give their final decision in May. The awards ceremony will take place in June at HISPASAT's headquarters, and will end a series of celebrations that have taken place throughout this anniversary year. The prize for the winning proposal will consist of 12,000 euros and a diploma. The runner up will be given 5,000 euros and a diploma. The jury, presided by HISPASAT president Elena Pisonero, is comprised of experts in the aerospace industry.