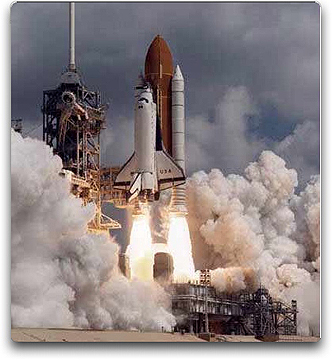 Hard to imagine, this guy may live in Friendswood, but he is no friend —

A Friendswood man pleaded guilty Monday to selling NASA a space shuttle part that prosecutors allege could have endangered astronauts' lives.
Richard J. Harmon
,
60
, the
former owner of Cornerstone Machining Inc. in Alvin
, pleaded guilty to a
federal felony charge of fraud involving a space vehicle part.
U.S. District
Judge
Lynn Hughes
scheduled Harmon's sentencing for June when he could face up to
10 years in prison and a $250,000 fine
.
Assistant U.S. Attorney
John Lewis
presented the judge with a written summary of Harmon's crime. It stated that Harmon, who had worked in the aerospace industry for decades,
subcontracted to build two fasteners for $18,795 each and agreed to meet all precise specifications or let authorities know about any changes.
The fasteners would hold cargo to the space shuttle and
prosecutors allege if a defect had caused the cargo to come lose in ascent into orbit, "it would almost certainly have resulted in the destruction of the shuttle."
Harmon's shop was making one of the fasteners when a
cutting machine made a gash in the aluminum, and Harmon agreed to have it welded over
. He did not tell the contractor that hired him,
Spacehab Inc., about that mistake
, Lewis' written fact scenario stated. Harmon also failed to inform the lead contractor, Lockheed, and NASA.
The
weld caused the fastener to lose 40 percent of its strength, the government claimed
. "Ultimately Lockheed scrapped the (part) because the gash and weld
created too great a risk that it would fail in flight and destroy the space shuttle
," Lewis' fact scenario concluded.
Harmon seemed unrepentant in court. He told the judge that the facts as presented by the government seemed to be coming from someone else trying to cover their own mistakes. Harmon said he tried call someone to explain the error one evening but didn't reach any one.
Chip Lewis
, Harmon's
attorney
, said his
client was under pressure from Spacehab to speed up his work
. Lewis said an internal report showed that the part could have been used once, so his client feels he was made a scapegoat. Lewis said Harmon would still like to work in the aerospace industry, and the
judge said if he applies for jobs he must tell employers in writing about this fraud
.
Excerpted from: MARY FLOOD Copyright 2009 Houston Chronicle March 30, 2009, 10:25PM