[SatNews] In the presence of the German Chancellor Angela Merkel, the European Space Agency (ESA) and Airbus Defence and Space, as the industrial prime contractor, have signed the first contractual documents to start the development and construction of a series of MetOp Second Generation (MetOp-SG) weather satellites at the International Airshow ILA in Berlin.
"MetOp-SG will further increase the benefits of accurate weather prediction based on state-of-the-art European technologies," said François Auque, Head of Space Systems. "Already today the current MetOp satellites we built are the largest provider, worldwide, of measurement data for weather forecasts and thus contribute to socio-economic benefits worth several billion Euros for European citizens every year."

The program is a cooperative undertaking between ESA and EUMETSAT, the European Organisation for the Exploitation of Meteorological Satellites. MetOp-SG will provide continuity and enhancement of meteorological data with improved spectral and spatial resolution compared to the measurements currently provided by the first generation of MetOp satellites, also built by Airbus Defence and Space. A complete range of observations will be realized using 10 different instruments, covering ultra-violet, visible, infrared and microwave spectral bands.

As for the first generation, mission products will allow data assimilation into Numerical Weather Prediction (NWP) models. They will deliver crucial information on atmosphere temperature and water profiles, on cloud detection and analysis, on sea surface temperature and winds, extending to trace gases and air quality. The addition of new instruments observing an extended spectral range enables the collection of new environmental mission observations.

The MetOp-SG space segment consists of two series of satellite, with up to three of type "Satellites A" (with a focus on optical instruments) and up to three of type "Satellites B" (with a focus on microwave instruments). Both types will be based on Astrobus high power platforms. The "A" satellites are to be developed and built under the industrial lead of Airbus Defence and Space in Toulouse (France), the design and manufacturing of the "B" satellites will be led by the company's Friedrichshafen site in Germany. Airbus Defence and Space will lead an international industrial consortium to procure more than 150 different equipment and services for the spacecraft's platforms and instruments.

A dedicated launch is planned for each satellite with launch masses of approx. 4 tons. The satellites will be placed in a sun-synchronous polar orbit, at 834 kilometers altitude (the same as the first generation MetOp satellites). The nominal lifetime of each satellite is 7.5 years. The launch of the first "Satellite A" in 2021, followed by the first "Satellite B" in 2022, will mark the deployment of EUMETSAT´s new polar system. Three sets of each Satellite A and B will ensure nominal operational lifetime of up to 21 years (with 6 months of in-orbit overlap between successive satellites of a series).
The Airbus Defence and Space infosite may be accessed via http://www.astrium-geo.com/
Airbus Defence and Space and BAE Systems have launched a strategic alliance to produce, market and sell innovative geospatial intelligence (GEOINT) products and solutions using state-of-the-art data collected exclusively by TerraSAR-X and TanDEM-X radar satellites.

Under the terms of the partnership, Airbus Defence and Space and BAE Systems will jointly develop a new line of global SAR (synthetic aperture radar) products that are unrivaled in terms of accuracy, resolution and quality. The two companies will exclusively market these products to US government, commercial, and select international customers.

"BAE Systems' unique expertise will leverage the SAR data we are collecting into refined sets of geospatial intelligence products, that meet stringent US government standards," said Evert Dudok, Head of Communications, Intelligence & Security at Airbus Defence and Space.
The precision and richness of Airbus Defence and Space's radar data products, combined with the rigor of BAE Systems' GEOINT exploitation and analysis expertise, will drive the development of advanced geospatial products that will benefit both the public and private sectors. The resulting GEOINT products will enhance mission planning for defence customers, support flight systems, improve emergency response, and help the world's energy sector strategically plan new power grids, plot pipelines and manage resources.

"The Airbus Defence and Space radar satellite missions are collecting data of unprecedented quality and accuracy on a global scale," said DeEtte Gray, president of BAE Systems' Intelligence & Security sector. "The products we are teaming to develop represent a major leap forward in SAR-based products and services that enhance various sophisticated applications."
TerraSAR-X and TanDEM-X are very high-resolution X-Band SAR systems that collect data for precision change detection applications, maritime monitoring, digital elevation modelling, ground control point extractions and topographical mapping in cloud persistent regions. The two satellites also acquired the data used to produce Airbus Defence and Space's state-of-the artWorldDEM, which is a highly accurate, homogenous global digital elevation product.
BAE Systems infosite is located at http://www.baesystems.com/

Note: To find out more about Airbus Defence and Space's broad portfolio, please visit the Airbus pavilion at the Berlin ExpoCenter Airport, during the international aerospace exhibition ILA Berlin 2014 running 20-25 May 2014.
Airbus Defense and Space had initiated space qualification testing of its Astrix 1090 high-precision Fiber-Optic Inertial Reference Unit in February and will conclude with the Qualification Review milestone in early July 2014.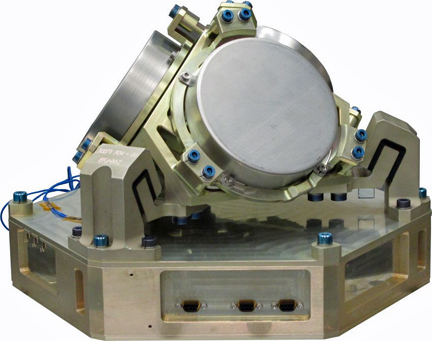 "The Astrix family of FOGs have well-established flight heritage and a reputation for high performance," said Jean-Pierre Domenget, head of the Space Platform Electronics business cluster in Airbus Defense and Space. "By leveraging this existing product family technology, the Astrix 1090 is a low risk option that provides the best price-performance ratio on the market. It is ready for delivery only 12 months after order, ideal for short satellite build schedules. Needless to say, the Astrix 1090 has generated immense customer interest."

The Astrix 1090 joins its siblings, the Astrix 120 and Astrix 200, to supply very high accuracy rotation rate data with extremely low noise, crucial for space systems stabilization, pointing and attitude control. With its high reliability and powered-on lifetime to exceed 15 years, the 3 axis Astrix 1090 is specifically designed and certified for long-duration missions. It may be used on small to large satellites due to its small volume and only 12 watt power consumption. Multiple performance levels are available with the Astrix 1000 series, which together with an accelerometer option provides the flexibility to support a range of satellite missions from telecom to interplanetary.
The flash memory Solid-State Recorder (SSR) products of Airbus Defense and Space have passed all NASA space qualification test requirements successfully. In addition, the company's flash-based SSR has exceeded 20 months of operation in orbit onboard SPOT 6, the first commercial satellite to deploy this technology.

The Electronics Business Line of Airbus Defense and Space is the only company with a commercially available SSR with flash technology certified for space applications. For US customers, Airbus Defense and Space flash memory is qualified in accordance with NASA GSFC Parts Document EEE- INST-002.

"Flash Solid-State Mass Memory provides far greater storage capacity at a lower operating cost than SDRAM. The advantages have been confirmed on SPOT 6 where our flash SSR has a flawless track-record in an Earth observation mission," explains Tim Pike, Product Manager for Payload Data Handling at Airbus Defense and Space Electronics. "Achieving both NASA and ESA qualification standards assures customers worldwide that our flash technology is a viable choice for their next mission."
Flash memory offers significant reduction in SSR size, weight and power consumption as well as substantial cost savings. Compared with previous SSR generations based on SDRAM technology, SSR units based on flash technology typically provide 60% higher storage capacity with 2.5 times less mass and 5 times less size, while consuming 3.5 times less power. The new NEMO SSR (now on display at the Space Symposium in Colorado Springs, Colorado, from May 19-22, 2014) provides 0.5Tbit storage capacity in only 6.5Kg, while consuming less than 10W in simultaneous record and replay operation. Since flash technology is non-volatile, the unit can be completely powered down while retaining the stored data.

Note: Please visit Airbus Defense and Space at the 30th Space Symposium, on booth 603, in the Boeing Exhibit Center.