Further advances in satellite phone capability have been completed by MSS operator Thuraya Telecommunications with the release of the world's first dual mode, dual SIM phone.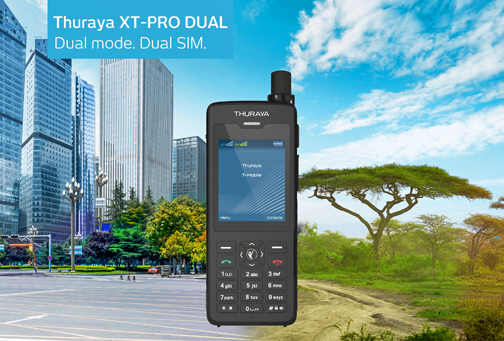 The Thuraya XT-PRO DUAL bridges the gap between satellite and terrestrial communications, allowing users to move seamlessly in and out of terrestrial coverage for connectivity in any location. With a dedicated SIM slot for satellite communications and a second one for GSM communications, Thuraya's latest groundbreaking handset transforms usability and choice. Users can opt for a Thuraya SIM card and their GSM card, or select any combination of SIM cards that meets their requirements.
The new handset's 'Always On' capability lets users alternate between calls effortlessly, ensuring they are always reachable on both the satellite and the terrestrial networks. Callers can be contacted on their GSM number even while on an active satellite call—and vice versa.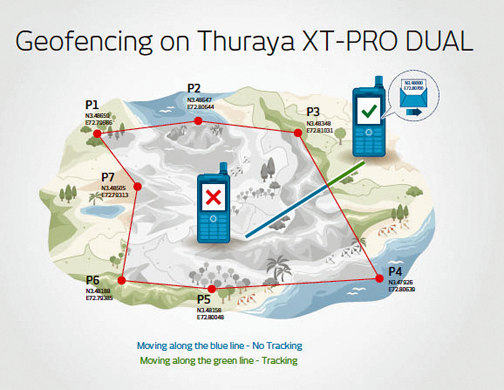 The emphasis on flexibility continues with the Thuraya XT-PRO DUAL's advanced navigation capabilities through GPS, BeiDou, Glonass and Galileo. Users of the Thuraya XT-PRO DUAL can also share current coordinates, enter waypoints to navigate to specific positions using the electronic compass, and use position logging.
In another industry first, the handset's advanced tracking capabilities offer three different options, based on preset time intervals, distance traveled, and detection of movement outside a preset geofence. The geofencing process is simplicity itself, using any three to seven coordinates of the user's choice. For full and secure control, all tracking functions are user-activated, and cannot be initiated or controlled by unwelcome external entities.
The Thuraya XT-PRO DUAL's battery delivers up to 11 hours of talk and 100 hours of standby time. Performance and reliability are further enhanced by the SOS emergency button. The handset also benefits from a highly ruggedized shockproof, water and dust resistant body, and glare resistant Gorilla glass display.
Thuraya's comprehensive satellite network provides reliable, clear and uninterrupted communications in more than 160 countries across Europe, Africa, Asia and Australia; and in GSM-mode the Thuraya XT-PRO DUAL supports most 2G/3G frequencies across the world. Thuraya's network enables clear communications and uninterrupted coverage across two-thirds of the globe by satellite and across the planet through unique GSM roaming capabilities, with 389 agreements already in place. Thuraya continues to add new channels to market and extend existing partnerships.
Bilal Hamoui, the Chief Commercial Officer at Thuraya, said, "The XT-PRO DUAL represents a major advance in convergence. Its dual SIM, dual mode capability delivers unprecedented flexibility, which opens up new levels of value to end users. MNOs (mobile network operators) around the world can offer their customers a first-of-a-kind service focusing on the benefits of being constantly connected, even when traveling."