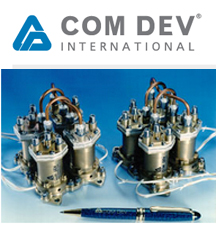 [Satnews] COM DEV International Ltd. (TSX:CDV) has announced that the company has signed a long-term agreement (LTA) to supply satellite switch products to a major prime contractor.
This new contract assures COM DEV of $8.5 million of switch orders over the two-year duration of the agreement. Under the LTA, COM DEV and its customer have agreed in advance on pricing, general requirements, and other general terms for switch orders anticipated over the contract period. For the customer, this arrangement secures an important aspect of its supply chain, offers favourable pricing and turnaround times, and enables efficiencies through the use of standardized components.
For COM DEV, the LTA facilitates production planning, improves the efficiency of the sales process, and assures the Company of a specified sales volume of switches, including its latest generation switch product.
Mike Williams, president of COM DEV's products division, said, "We have been working to standardize key aspects of our product line wherever possible so that our customers can place orders like they are selecting from a catalog. This approach benefits both parties in the areas of design, procurement, production and overall costs."