SatService has reported that Hessischer Rundfunk, one of the ARD members, a public broadcaster in Germany, has deployed ATEME's compression and statistical multiplexing solutions for their OTT and DVB-T2 services.

This new HEVC statmux headend uses ATEME TITAN full-software solution for delivering 15 full-HD channels with premium video quality. The solution was supplied by SatService GmbH, an ATEME business partner and product distributor for the DACH region.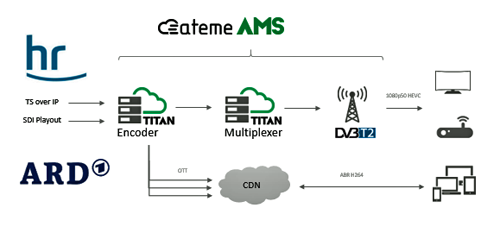 ATEME is a leading vendor of pure-software encoding solutions, highlighted by the TITAN software family that delivers the highest video quality at minimum bitrates for OTT, DTT, DTH and cable. ATEME's software modules approach provides even more flexibility to combine: any input/output, any CODEC, any resolution, from an encoder to a video headend in a box.
Jörg-Peter Jost, Senior Engineer at Hessischer Rundfunk declared that the company decided to deploy the TITAN solution to deliver the firm's premium services with the highest video quality on all kinds of end user devices. The end-to-end solution by ATEME provides the company with the full flexibility needed today in terms of hardware abstraction, third party integration and custom service oriented operations under an unified management system (AMS).
Kai Koppenburg, the sales director at SatService, added that the TITAN solution enables cost-effective creation of live OTT channels, data-center economics and allows greater operational efficiencies.
Igor Stankovic, EMEA Sales Manager at ATEME, noted that TITAN is the ideal solution for converged headend, servicing main and multi-screen applications. As the industry moves to all-IP full-software video solutions fostering unparalleled benefits, more and more tier 1 broadcasters and service providers approve, adopt and deploy ATEME TITAN solutions all over the globe.