[Satnews] ORBCOMM Inc. (Nasdaq: ORBC) has been selected by Bay and Bay Transportation (Bay and Bay) to provide industry-leading telematics solutions for its mixed fleet, including dry van and refrigerated trailers as well as dry tank assets, which are used to transport a variety of non-food grade materials.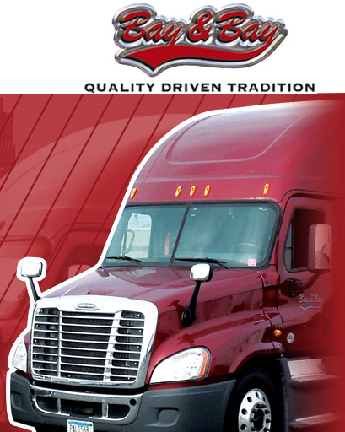 Founded in 1959, Bay and Bay is a premier trucking and logistics provider and a leader in the temperature-control market with extensive reach across the United States. Bay and Bay will use ORBCOMM's GT 1100, a ruggedized, easy-to-install trailer telematics device with a low, one-inch height profile, to track and monitor its dry van trailers and dry tank assets. The GT 1100 is sensor-compatible and self-powered with solar recharging technology for low power consumption and long service life, which eliminates the need for frequent battery changes. ORBCOMM will also provide Bay and Bay with an advanced web application with data reporting and analytics capabilities to increase in-transit visibility and security of its dry assets.

Bay and Bay will use ORBCOMM's RT 6000+ cold chain telematics solution that provides comprehensive, two-way temperature, fuel management, maintenance, and logistical applications services for its entire refrigerated trailer fleet. The application includes ORBCOMM's proprietary hardware along with a robust web application to increase the efficiency of Bay and Bay's refrigerated transport operations, mitigate product spoilage and ensure compliance with new food safety regulations.

In addition, ORBCOMM's telematics solutions integrate closely with the TMW Systems TruckMate® transportation management platform. The TruckMate two-way interface enables Bay and Bay to capture near real-time asset data, including operational condition and GPS position, through one comprehensive system.
ORBCOMM has begun installing its telematics system on Bay and Bay's trailers and expects the deployments to continue throughout the remainder of 2016.
Marc Eisenberg, ORBCOMM's Chief Executive Officer, said, "ORBCOMM's advanced technology provides Bay and Bay with full quality control and compliance for handling both dry and refrigerated cargo throughout the supply chain."

"By utilizing ORBCOMM's powerful telematics solutions, we can streamline our delivery operations and protect the integrity of the cargo we carry, while ensuring premier service for our nationwide customers," said Aaron Thompson, Executive Vice President for Bay and Bay Transportation. "In addition, by seamlessly integrating ORBCOMM's solution with the TruckMate platform, we now have full visibility over our entire fleet through one combined data feed, which takes our trucking operations to an even greater level of productivity and efficiency."