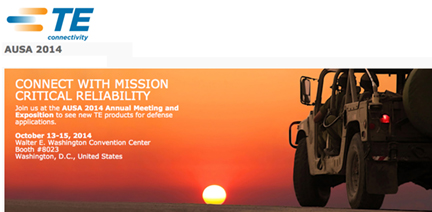 SatNews] At booth #8023 at AUSA 2014, attendees can view TE's latest electrical interconnect solutions that provide connectivity and high-speed data transmission for networking in armored vehicles in electronic warfare and C4ISR applications.
The U.S. Army's Vehicle Integration for C4ISR/EW Interoperability (VICTORY) program is a framework that makes it easier for electronic mission equipment to be integrated into ground vehicles, and for vehicles to share data. The system of networked vehicles provides situational awareness for troops as well as reducing the number of independent systems on each vehicle. This reduces size and weight of systems, while also removing redundancy.
TE will feature several rugged and flexible end-to-end solutions that offer design engineers modularity for easy integration, advanced components for weight and space savings, and a variety of options in gigabit and 10 gigabit Ethernet connectivity to help meet tough application challenges.
TE's engineers will be available for interviews at its booth throughout the show.
AUSA 2014 runs from October 13 to 15, 2014, at the Walter E. Washington Convention Center in Washington, DC.
For more information, please visit visit the AUSA 2014 solutions page at this infopage.