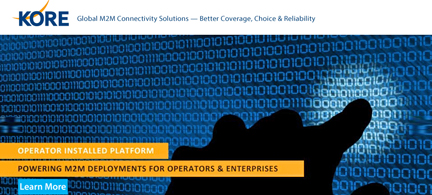 [SatNews] KORE Wireless has been presented with the CeBIT Australia Business Award for Service Distinction at the CeBIT Gala Dinner and Awards night.
KORE Wireless was short-listed for the category of Service Distinction against two long-standing technology companies, Icom Australia and Q3 Technologies. Vice President and General Manager at KORE Wireless Asia Pacific, Shane Murphy, said the award was recognition for the companies' dedication to providing the best possible service to its customers.
"This award just confirms how integral customer service is within any industry, it's what drives KORE Wireless to continuously deliver and improve on our service and our product offerings to meet market and customer needs," Mr Murphy said. "To be able to accept this award from a brand as well recognized and respected in the technology space as CeBIT, is a great honor."
A panel of industry experts reviewed and considered all shortlisted businesses to determine the winner for each of the four categories.
"Icom Australia and Q3 Technologies are both businesses with great track records, KORE Wireless was proud to have been nominated and selected against such strong brands," Mr Murphy said.
KORE Wireless will continue to showcase their M2M service offerings at stand F43 for the remainder of CeBIT Australia at Olympic Park until Wednesday, April 7th.
The KORE WIRELESS infosite may be accessed at http://www.korewireless.com.au/