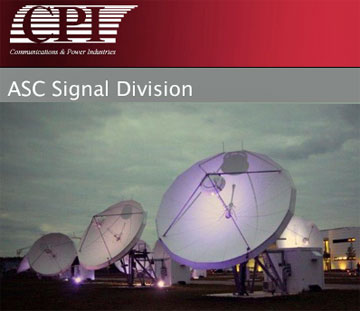 High winds can play havoc with antennas... such has been taken into consideration by the ASC Signal Division of Communications & Power Industries LLC (CPI)—the company is now shipping a new, high wind version of their 2.5 meter Nomadic Antenna.
This trailer mountable, carbon-fiber antenna is being sold to organizations for use in remote field deployment applications for defense and commercial industry customers. CPI ASC Signal Division developed the durable technology for their new version of the Nomadic Antenna to address industry and customer requirements that the company has seen evolve through several programs.
CPI ASC Signal Division's latest Nomadic Antenna product is capable of operation at L-, X-, C-, Ku-, Ka-, Q- and V-bands and is the latest addition to the company's expanded mobile product line. In this latest configuration, the Nomadic Antenna system serves as the platform for an ARSTRAT-certified terminal and, to date, more than 100 systems are in service worldwide. Additionally, the 2.5-meter system combines the company's innovative antenna design with the state of the art Next Generation Controller (NGC) to provide the industry's highest level of acquisition, tracking accuracy and performance from antenna systems of this size.

The CPI ASC Signal Division portfolio continues to expand their mobile and transportable antenna systems offerings, based on the their existing line of high-performance fixed earth station antennas. CPI ASC Signal Division's product offering now includes mobile and transportable antenna systems that range from 2.4 through 4.6 meters, along with fixed antenna systems that reach through 9.4 meters. The company's antenna products are designed for service to all commercial and non-commercial/military satellite bands.

According to CPI ASC Signal Division President, Keith Buckley, as mobility continues to be a prominent and dominant requirement for remote applications, CPI ASC Signal Division continues to deliver earth station antennas that seamlessly integrate fixed and mobile systems into the same network architecture—unique about the company's approach is that the same antenna controller systems can be used, regardless of the antenna platform, which reduces costs to customers and provides uniform operation across the entire network.