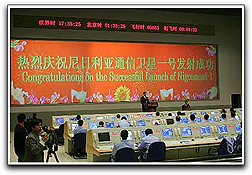 "Electricity power exhaustion" — hmmmm, a rather underpowered statement from the China Great Wall Industry Corporation as to the reason the comsat NigComSat-1 has failed to report for duty.
According to
Xinhua
, and according to satellite manufacturer
China Great Wall Industry
, one of the satellite's solar wings suffered a technical error, or caused a technical error, or introduced a technical error. Whatever the reason, the
NigComSat-1
is now declared a total loss after it was launched last May from the
Xichang Satellite Launch Center
in China's southwestern Sichuan Province. One of the China Great Wall Industries' spokespersons stated, "Commercial communication satellites involve complex technologies and are regarded as highly risky projects globally." You may recall on
November 13
in a statement issued in Abuja by
Nigcomsat Ltd
.'s National Publicity Secretary,
Alhaji Lai Mohammed
, after the lack of communication by the satellite was noted, the official explanation was that "the satellite was merely faulty and is now being repaired in orbit" was, even then, considered unacceptable.