Keysight Technologies, Inc. (NYSE: KEYS) has announced that that Ixia, a Keysight Business, will highlight solutions that show visibility delivers better network security at RSA 2018, Booth 3401, North Hall, at the Moscone Center in San Francisco, on April 16 to 20, 2018.
At this year's event, Ixia will offer demonstrations of a wide range of technology advancements and solutions that provide real-time, end-to-end visibility, insight and security and deliver control, coverage and performance to protect networking, data center and cloud business assets.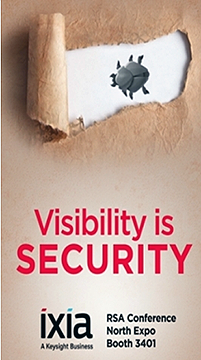 As a result, attendees will learn how to:
Recognize the Enemy – capture security threat information
Minimize Cloud Security Risk -- conduct continuous security assessments
Expose Hidden Malware -- see hidden malware with SSL decryption
Measure Network Security Resilience -- test with today's threat vectors
Strengthen Your Inline Security -- external bypass switches increase reliability
In addition, Steve McGregory, Sr. Director of Application and Threat Intelligence, Ixia, and Chris Morales, Head of Security Analytics, Vectra.AI, held a session called Network Visibility and AI; You're Our Only Hope, on Tuesday, April 17, which covered how the combination of Network Visibility and Artificial Intelligence (AI) will enable customers to overcome alert fatigue, a shortage of people, and a growing rate of attacks. When applied correctly, AI will help reduce human analyst workloads and increase speed of incident response.