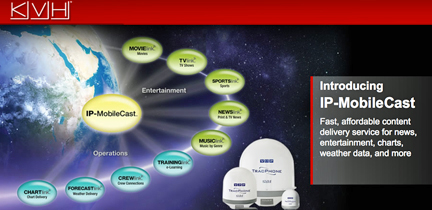 [SatNews] KVH Industries, Inc., (Nasdaq: KVHI) and Transas have announced a strategic relationship designed to ensure vessels at sea receive affordable, timely updates of mandatory electronic chart data.
The CHARTlink channel of KVH's IP-MobileCast content delivery service will support delivery of chart and other data updates from Transas, a leading producer of electronic chart display and information systems (ECDIS) and a leading provider of electronic navigation charts (ENC) and data services. This is the first of many steps envisioned by Transas for delivery of value-added data for shipboard use with the IP-MobileCast service.

International maritime regulations mandate the use of ECDIS for commercial and passenger vessels. To meet regulations, ECDIS must have up-to-date ENCs, but the process of updating these large chart databases via the Internet can drive up satellite communications costs while a vessel is at sea. Delivery of updates by DVD causes delays due to a vessel's remote ports of call and associated logistical issues. KVH's IP-MobileCast content delivery service, which utilizes multicasting technology, is designed to provide an affordable way for ships to receive the chart updates. A ship equipped with KVH's TracPhone V-series or V-IP series satellite communications antenna systems, which are designed for the mini-VSAT Broadband network, can subscribe to IP-MobileCast's CHARTlink service and receive chart updates automatically. The Transas ENC updates are designed so that they can be received, unpacked, and deployed without user intervention, a key aspect of compliance with maritime regulations and overall service quality.
KVH and Transas will test the CHARTlink service on ships at sea starting immediately and plan for a commercial rollout of the service before the end of the year, subject to ongoing cooperation and final agreement between the parties. The IP-MobileCast service uses multicasting technology to deliver large amounts of content to many ships at once, overcoming the prohibitively high satellite communications costs typically charged to deliver files for individual use. The new service is notable for technological advancements that enable content to be delivered over the top of KVH's mini-VSAT Broadband network, while also ensuring that the multicasting transmission does not affect the vessel's mini-VSAT Broadband onboard data speed.

KVH continues to establish partnerships with leading applications providers, such as Transas, in the maritime industry to provide critical content and valued-added services to their mini-VSAT Broadband customers.
"Transas is a leader in the ECDIS segment because they manufacture the hardware systems that are installed in the ship's bridge, and encode the digital files that national hydrographic offices create," said Martin Kits van Heyningen, KVH chief executive officer. "Transas has integrated the electronic assets with the hardware platform. Our role is to provide the connectivity and file server platform to allow secure, inexpensive, and guaranteed delivery of the chart files from Transas to the ships."
"For our customers, CHARTlink represents a perfect solution for an automated, guaranteed, and auditable method of delivery and regular update of ENCs onboard," said Jens Pfeiffer, Transas Marine navigation division director.
For more information about Transas, please visit http://www.transas.com/
For more information about KVH's IP-MobileCast content delivery service, please visit http://www.ipmobilecast.com/