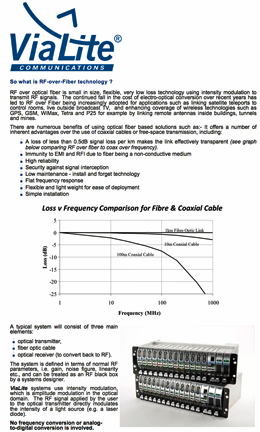 [SatNews] ViaLite Communications have announced a 100km RF over fiber link that does not require optical repeaters.
"Customers have been asking us for longer link distances, so we are pleased to announce this new product," says Dr. Martin Ryan, CEO of ViaLite Communications. "Very long link distances open up new possibilities for teleport design and this kind of capability is a potential game-changer. For example, multiple teleport sites can be controlled from a single control room. The ViaLite 100km link also supports DWDM and the multiplexing of timing or reference signals together with traffic and the link can be controlled remotely using Ethernet or SNMP.

"We have been manufacturing these links for 20 years. RF over fiber is becoming the de-facto choice for inter-facility links (IFLs) as teleports are getting larger and copper coax is no longer suitable. The electrical signal is transferred to the optical domain without any modulation, so the link is completely transparent to the system and supports any signal format. Customers can therefore install RF over fiber links knowing they are future-proof.

"Fiber losses are so low that even our standard links support up to 10km. In fact, with these longer link distances and DWDM, it is now commercially and technically viable for teleports to use dark (leased) fiber. ViaLite customers are already providing live services to major broadcasters over leased fiber. DWDM means up to 96 links can share a single fiber. Using more than one fiber loop allows full redundancy and link gain can be automatically or manually adjusted so the fiber loops appear identical in the system, even if they are radically different lengths."

ViaLite RF over fiber links are available in 19-inch rack format or as OEM modules for integrating with existing systems. The 100km link is supports frequencies up to 3GHz and is compatible with the Satcom6, an intelligent weatherproof outdoor enclosure designed specifically for use at teleports. ViaLiteHD platform is a finalist in this year's World Teleport Association (WTA) teleport technology of the year 2014.

ViaLite Communications is participating at Satellite2014 in Washington on booth number #9029. More information can be found at http://www.vialite.com/.