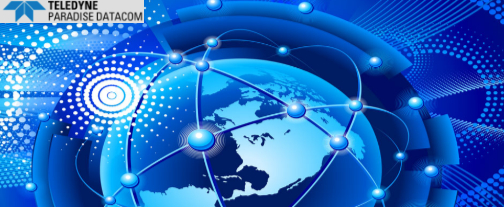 Teledyne Paradise Datacom (TPD) has unveiled AXIOM-X™, the company's new modem for point-to-point (P2P) and point-to-multipoint (P2MP) networks.
AXIOM-X™ is a single-card solution that is compact and IP centric with low power consumption. While small in size, AXIOM-X™ delivers powerful performance, supporting up to 575Mbps of aggregate data and 160,000 IP packets per second. The modem also supports L2 bridging and L3 routing with full QoS and Traffic Shaping.
Teledyne Paradise Datacom, part of the Teledyne Defense Electronics Group, has also announced the addition of a major new feature to their QMultiFlex-400™ Hub for point-to-multipoint (P2MP) satellite IP systems.
Currently, operators desiring frequency re-use between outbound and inbound carriers must deploy a separate unit after the modem in a point-to-multipoint system. By using the Teledyne Paradise Datacom's QMultiFlex-400 with the unique Embedded Hub Canceller, operators can now enjoy several major advantages that include up to 50 percent bandwidth cost savings as well as a smaller footprint that requires less rack space,.