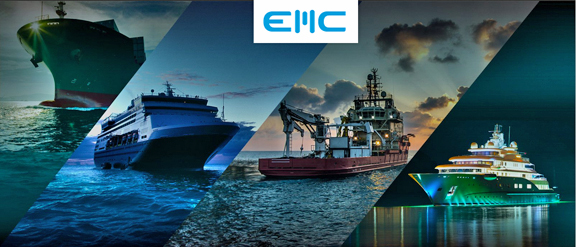 EMC has revealed a new global Ku-band VSAT package of connectivity and content for ships at sea, a package that is optimized for the nexgen HTS networks that are now being deployed.
SpeedNet: Redefining the Internet Experience at Sea
EMC's patented SpeedNet technology solves the age-old problem of latency in web access at sea. Using a proprietary intelligent protocol and global backbone, SpeedNet predictively fetches, compresses and pushes multiple layers of websites at once to local servers. The net result for the end-user is a browsing experience that mimics being on high-speed fiber. SpeedNet works in the background on mobile and desktop browsers to accelerate page load times dramatically. SpeedNet is built into all EMC ship installations as a standard feature, not an expensive option. As an example, side-by-side comparison tests revealed the average time for accessing BBC.com's home page was only 4.6 seconds with SpeedNet and 21.2 seconds without SpeedNet over the same satellite connection.

Live TV Programming
Starting this summer, EMC will start broadcasting live TV programming over the same Ku-band network that delivers voice and data services, all using a single satellite antenna on board. The first two live TV channels to be offered are BBC News and Sport 24. The Sport 24 channel features live coverage of Barclays Premier League, UEFA, Formula 1 racing, PGA, NBA, NHL, Euroleague Basketball, Wimbledon, U.S. Open Tennis and more. The service will be offered regionally and expanded over time. Expansion plans include additional live channels and a content-rich suite of on-demand entertainment options later this year.

Advanced Billing and Management Tools
EMC is also launching a new back-end billing and account management platform that allows crew and network admins to manage voice and data plans from a single portal. Administration and crew networks can be managed separately and changing the settings for different data allowances, credit limits and content filters is easy to accomplish. Individual crewmembers can directly manage and top up their plans with prepaid options and they crew can even transfer funds to mobile accounts of friends and family at home on 400+ carriers in more than 100 countries.

Global Coverage, Worldwide Support, Lowest Cost of Ownership
EMC provides global coverage with reliable Ku-bandwidth and seamless beam handovers. EMC operates 21 fully meshed multiprotocol label switching (MPLS) interconnected teleports in the United States, Europe, South America, Africa and Asia. The company's support centers around the world are staffed by EMC field engineers, augmented by a network of third-party service providers.
According to Gilles Gillesen, the President of EMC's commercial shipping business unit, this offering was designed with crew welfare as a top priority and the new EMC VSAT platform offers a combination of services and capabilities never before available from a single marine VSAT supplier. He indicated that the new features include EMC's exclusive SpeedNet™ high-speed web browsing service, live TV programming delivered through the Ku-band network, video and entertainment on demand and a powerful new account management portal, all wrapped up in a competitively priced package. He also added that their product places EMC in a good position to take full advantage of HTS payloads as new satellites enter service.