Kymeta has announced limited availability of the Kymeta™ KyWay™ Go, a portable, mobile SATCOM terminal.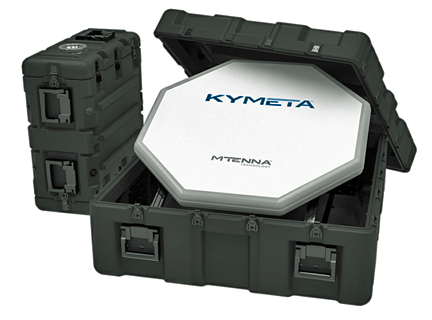 Another industry-first solution, the KyWay Go is a ruggedized, portable terminal that can be up and running in minutes. The KyWay Go rapid-deployment terminal currently comes in two cases, and goes from opening the boxes to transmitting in less than four minutes. The initial limited production units are available to rent for three or six month periods or can be purchased. KyWay Go can be bundled with Kymeta's innovative and affordable KÄ€LO™ satellite connectivity services, as well as bespoke MIR/CIR satellite plans. The KyWay Go will be available to both commercial and government organizations.
Nathan Kundtz, the Founde, President and CEO of Kymeta said that commercial and government customers have shown great interest in a portable KyWay satellite terminal for use in defense, oil and gas, and first responder applications. Since becoming commercially available, the Kymeta KyWay flat-panel, electronically-steered terminal has been widely deployed across more than 23 customers, in ten countries, and seven industries.