[SatNews] The USA Science & Engineering Festival, supported by presenting host sponsor Lockheed Martin, has joined forces with the U.S. News STEM Solutions to host their National Conference April 23-25, 2014, at the Walter E. Washington Convention Center in Washington, D.C.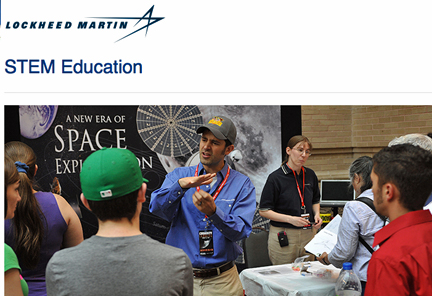 The combined Festival and Conference will bring together educators, scientists, performers, business and government leaders—as well as children and families—to create an inspiring and exciting week of events to advance Science, Technology, Engineering, and Math (STEM) education and careers in America.
The USA Science & Engineering Festival was co-founded by serial entrepreneur Larry Bock and Lockheed Martin Senior Vice President and Chief Technology Officer, Dr. Ray O. Johnson. The free, nonprofit Festival is the largest STEM outreach event in the world, and is filled with hands-on exhibits, experiments, concerts, and talks from leading technology entrepreneurs, Nobel Prize winning scientists, Hollywood celebrities, Fortune 500 CEOs, and many others.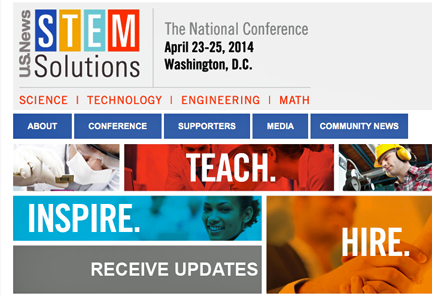 U.S. News STEM Solutions 2014 brings together business, education and government leaders who have long recognized the need to connect the dots between STEM education and careers. Adding to the previous years' successful conference format, the third edition will give more dedicated time for these leaders to interact and collaborate. The focus on outcomes at U.S. News STEM Solutions will reinforce the event's importance as the national leadership conference for sharing ideas and strategies critical to filling jobs now and advancing the future of the STEM workforce.
"The goal of the Festival is to inspire and create a sense of wonder around science, technology and engineering," said Larry Bock, USA Science & Engineering Festival. He added, "This will be the Super Bowl of STEM and we couldn't be more pleased than to team with U.S. News STEM Solutions to not only create more opportunities for America's students, but to make a better tomorrow."
"This is going to be an extraordinary week for STEM," said Brian Kelly, editor and chief content officer of U.S. News & World Report. "It will be five packed days that bring together the leaders of the STEM community with the festival's spectacular consumer show. One of our key themes has always been the need for inspiration. This week will inspire!"