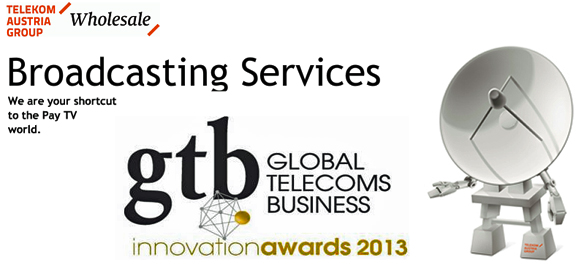 [SatNews] Telekom Austria Group has announced—with Eutelsat—its entry into a new business field of satellite TV (SatTV).
The announcement was made at a joint press conference at the International Broadcasting Convention (IBC) in Amsterdam. The solution involves a new B2B Direct-to-Home platform uplinking TV signals via Telekom Austria's Earth station in Aflenz/Styria to the EUTELSAT16A satellite at the 16 degrees East position for broadcasting to Central and Eastern Europe as well as wider regions of Western Europe. The term DTH (Direct To Home) stands for the reception of TV signals via an antenna installed at the home of the customers. DTH as a reception technology can be used for payTV as well as for free-to-air (FTA) channels.
In 2007, the Telekom Austria Group introduced its first convergent offers to the Austrian market comprising fixed line, mobile and broadband. Since then, different product combinations such as A1 TV, the IPTV offer of the Group, have been successfully commercialised. Following acquisitions concluded in Bulgaria in 2010 and Croatia in 2011, convergent product bundles have been launched in both countries. The existing TV offers based on IPTV and cable can now be extended by satellite technology, taking convergence to a new level.
The Telekom Austria Group has designed and implemented an open broadcasting solution seamlessly combining one earth station, one encryption system and STBs from multiple suppliers. Its B2B "direct2home" solution is aimed at two target groups:
Broadcasting companies: Via Telekom Austria's DTH solution, broadcasters can extend their footprint in the CEE, taking advantage of the reach of EUTELSAT 16A. The solution consists of a seamless connection via Aflenz as well as various Pay TV program packages and EPGs (Electronic Programme Guides
Telecommunication operators: The Telekom Austria Group is offering other telecommunication companies (IPTV, cable TV and network operators) a "White Label Solution". Providers can offer their own content to customers with their own branding and use the technical service of Telekom Austria Group. The advantage of this offer is that providers can rapidly extend their market penetration, use cross-selling potential and benefit from a wide range of channels and services without upfront investment. In addition, the Telekom Austria Group offers different kinds of STBs
To support this new direction, Telekom Austria Group has selected capacity on the EUTELSAT 16A satellite located at 16 degrees East, the key neighbourhood for broadcasting in Central and Eastern Europe.