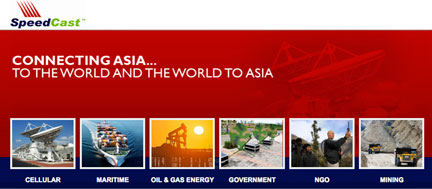 [SatNews] SpeedCast Ltd. ("SpeedCast") has bought out Pactel International, a leading satellite...
...communications service provider based in Australia. The closing of the transaction is subject to regulatory approval. The acquisition will consolidate SpeedCast's leadership position in the Asia-Pacific region and provide SpeedCast with an expanded presence in Australia and the Pacific.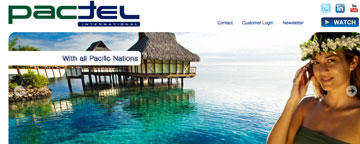 Pactel International ("Pactel") provides satellite communications solutions throughout Australia and the Pacific. The company focuses on servicing its customers' requirements for Internet, private networking and voice services. Founded in 1999, Pactel is headquartered in Sydney, Australia, and has additional offices in Perth, Australia and Jakarta, Indonesia. Pactel has established itself as a leading satellite communications service provider in the Pacific region, with a diverse group of customers including telecoms, large oil & gas operators, governments and multinational mining companies. Pactel is well known for its expertise and ability to deliver complete communications solutions, including complex data networks and IT solutions for their customers.
With this acquisition, SpeedCast will offer unique engineering capabilities with more than 50 skilled engineers across the Asia-Pacific region, allowing it to continue to support its growing base of customers and partners there. SpeedCast's network of 25 teleports worldwide provides global services with unmatched flexibility and redundancy. With this solid foundation, SpeedCast has the ability to deliver custom-engineered and highly reliable communications solutions for its customers across all major industry segments. In particular, in the Australian market, SpeedCast will further extended its stronghold with new points of presence and infrastructure covering the entire continent from Sydney to Perth, from Darwin to Adelaide. SpeedCast will be well-positioned to serve its growing number of natural resource customers and support their mission-critical communications in Australia and around the world.
In the Pacific Island market, SpeedCast is acquiring a market leader with a marquee customer list and deep inroads into this expansive market. Pactel is well established in the region as a long-time provider of reliable satellite connectivity. SpeedCast is fully committed to continue providing high-quality satellite services to the Pacific region and to further expand its business there with an even broader portfolio of products and services.
Joining the SpeedCast Group, Pactel will be able to offer its customers a wider portfolio of products and services and better serve its customers' needs worldwide. With SpeedCast's financial and logistical strength, Pactel will be able to finance even larger-scale projects with short lead times. SpeedCast will leverage Pactel's outstanding team to continue to provide excellent services to existing Pactel customers, while augmenting SpeedCast's own team and expertise. In particular, Pactel's management team will continue with SpeedCast to further develop SpeedCast's business in Australia and the Pacific. Pactel's Sydney network operations center ("NOC") and teleports will complement SpeedCast's current Australian infrastructure, adding additional points of presence in this important market. The combination will also provide additional levels of redundancy for the Australian customers of both companies and also offer multiple landing points in the country.
This acquisition follows SpeedCast's acquisitions of Australian Satellite Communications ("ASC") and Elektrikom Satellite Service ("Elektrikom"), two leading service providers in their respective markets.