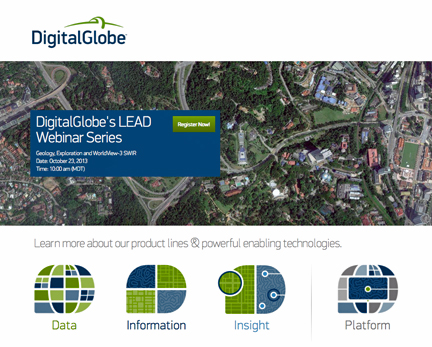 [SatNews] DigitalGlobe (NYSE: DGI) has finalized a lease for a new headquarters location in Westminster, Colorado.
In early September, shortly after DigitalGlobe announced that it had entered into a non-binding letter of intent with a developer for a new headquarters in Broomfield, Colorado, it received an unsolicited offer to lease a building near I-25 and 120th Ave. in Westminster, Colorado. After a comprehensive financial review and discussions with its real estate advisor Cresa Denver, DigitalGlobe undertook a thorough due diligence process, including a review of engineering, security, adaptability and space-utilization considerations resulting in the execution of a 15-year term lease.
"Although this was an unexpected series of events, once we determined the potential of this opportunity we moved diligently and quickly to finalize a lease that secures the best interests of our company, team members, customers and shareowners," said Jeffrey R. Tarr, President and Chief Executive Officer of DigitalGlobe. "DigitalGlobe believes this decision is a win for the state of Colorado, allowing for flexible business growth for the company and future high-tech jobs for the northern Denver corridor."
Several benefits factored into DigitalGlobe's decision to sign the lease. The building in Westminster allows DigitalGlobe to move with less disruption to its employees and complex operations. The building already has in place much of the infrastructure and physical security required by the company and will require less capital investment to be fully adapted to the company's current and long-term business needs. Colorado-based employees are expected to relocate to the new campus in Westminster in the summer of 2015.
"We regret any disappointment to the cities and partners associated with our previous announcement. We could not have anticipated this change in our relocation plans but are pleased with the benefits the Westminster facility offers," said Tarr.
DigitalGlobe expects to maintain a footprint in the current Longmont location for a period of time after the move to Westminster. In addition, DigitalGlobe will continue to maintain a significant presence in other offices around the world, including Herndon, Virginia, Tampa, Florida, London and Singapore, among others.