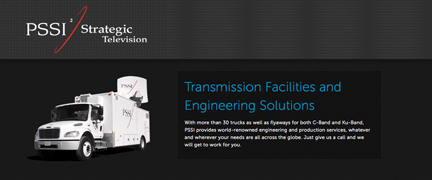 [SatNews] PSSI Global Services LLC (PSSI) has hired Rick Ball, a satellite industry veteran and a leader in mobile, digital satellite transmission development.
Ball has more than 25 years of extensive experience working in the satellite business, and is well known throughout the industry as a founding partner of a southern-based satellite uplink firm. He brings a comprehensive vision and expertise that will complement PSSI as the company further expands their global footprint.Ball has a long history of leadership roles in the industry, including having performed as EIC for virtually every major national network. As such, he designed, built and operated trucks (such as the first small-aperture, C/Ku Band analog/digital/HD satellite truck licensed in the U.S.) that led the way in broadcast television's transition to high definition. He was the primary uplink for the first world-class HD transmissions of the Academy Awards (1998), Monday Night Football (1998), Super Bowl (1999), Masters Golf Tournament (1999) and the State of the Union Address (2000).
Rick's responsibilities will continue to grow with PSSI, but he will immediately assist with bolstering operational support in the southeast and contributing to the development of PSSI's growth in the region.
Since 1979, PSSI Global Services LLC, with Strategic Television, has specialized in the coordination, production and distribution of domestic and international programming. They are a leading provider of mobile satellite transmission, production and streaming services and offer a full range of fixed, mobile and international flyaway satellite systems that provide live video, audio, IP and data services worldwide. They currently own more than 30 Ku- and C-band satellite uplink/production trucks based throughout the western United States, as well as international and domestic C/Ku flyaway uplink systems. Other capabilities include skIP Ku-band IP satellite transportable uplinks, HD/SD satellite and fiber encoding packages, HD/SD single- and multi-camera production, as well as a Las Vegas teleport with streaming.
To learn more about PSSI, visit their website at http://www.pssiglobal.com/