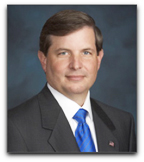 Lockheed Martin Corporation [NYSE: LMT] announced its Board of Directors has elected Christopher E. Kubasik to serve as president and chief operating officer, effective Jan. 1, 2010. In the new organizational alignment,
Lockheed Martin
's four business area executive vice presidents, the senior vice president of Operations and Program Management, and the CIO and vice president of Enterprise Business Services ,will report to Kubasik. "This new structure puts our businesses, their more than 3,000 programs, and the institutional mechanisms for improvement under Chris's operational oversight," Chairman, President and CEO
Bob Stevens
said. "It's a structure that will strengthen our company, reinforce our ability to support our customers' most difficult global security challenges, and prepare us to achieve a bright future."
Stevens
will continue as chairman and CEO and retain oversight of the remaining corporate staff functions. Currently,
Kubasik
serves as executive vice president of Lockheed Martin's
Electronic System
s business area, with 2008 sales of $11.6 billion, a portfolio of more than 1,400 programs, and customers in 43 nations. Prior to his appointment to that position in 2007, he was the corporation's executive vice president and chief financial officer, responsible for financial strategies, processes and operations.