atrexx has completed major contracts for the provision of satellite communications to European suppliers in the Libyan oil and gas industry. The dedicated, IP-based Virtual Private Network (VPN) will be used to provide communications to remote exploration sites and to drilling teams based in the region, which has experienced significant growth as a result of the lifting of an eleven-year UN economic and military embargo. Interest in the region has heightened due to the, as yet, unexplored areas of Libya, where oil may potentially be identified and the presence of foreign — mainly European — companies and investors is promising a positive future.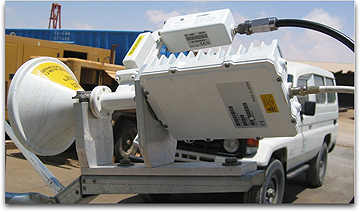 atrexx has been satisfying the corporate communications needs of companies offering specialized services for the Libyan oil and gas market since the embargo was lifted. The Company has extensive experience in the sector and is familiar with its specific communications needs. One center of the company's activities is based at
Marsa El Brega
, the gateway to the desert oil fields and the main refining and petrochemical centre in Libya. The solution boasts dedicated bandwidth services into the desert using the
iDirect 5100
service modems, enabling
iSCPC
links to be implemented. The global
2way2sat
IP-based solution enables the provision of ubiquitous IP-based voice, data, and video services to businesses at almost any location worldwide.
2way2sat
is already used in more than 35 countries around the world. The oil and gas industry accounts for 90 percent of the country's export earnings and is in need of modernization. atrexx supports companies in charge of this modernization through fast, efficient and inexpensive communications between exploration sites, the supply centers and the headquarters in Europe.
Select this image for 2way2sat info...