[SatNews] Snell will showcase high-performance playout automation, production switching, and infrastructure solutions that offer high quality at attractive price points at their booth, #1125.
PRODUCTION SWITCHING
Kahuna Flare — Midrange Multi-Format Production Switcher With 1080p Functionality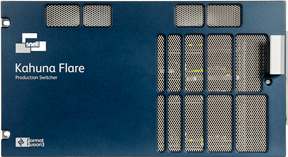 Kahuna Flare is the first midrange switcher to offer single-link 1080p support alongside SD and HD formats at no extra cost—making it ideal for over-the-air broadcasts, IP or Internet delivery platforms, and even large progressive-screen presentations. With versions ranging from two M/E to four M/E, Kahuna Flare offers four keyers per M/E and up to four channels of 3D DVE, all in a single 6RU frame. The system comes standard with 48 inputs and 24 outputs, expandable to 60 inputs and 32 outputs. Snell's unique FormatFusion3 technology gives Kahuna Flare users exceptional versatility in working with multiple signal formats, enabling them to mix SD, HD, and 1080p inputs and outputs simultaneously as required to meet any distribution need.
CHANNEL-IN-A-BOX
ICE Channel-in-a-Box—Versatile New Configurations Pack Even More Functionality Into Less Space


Snell has added new configurations to its industry-leading ICE channel-in-a-box family. ICE LE is a new 1RU version of ICE that provides the advanced functionality of the latest version 4.0 software in a smaller, more cost-effective footprint and with a streamlined feature set—making it ideal for smaller operations or simple video-server technology-refresh projects. The core ICE product is now available as a standard 2RU system, requiring a third less space than the previous hardware platform with no sacrifice in functionality; in fact, the new box has twice the 2D/3D graphics capability as was previously available.
CONVERSION
KudosPro—Low-Cost Signal Processing Platform

Snell's KudosPro signal processing platform boasts unique processing density (up to four channels of conversion in 1RU) and offers superb quality frame-rate and format conversions at less than $3,300 per channel. Performing 3Gbps, HD, and SD standards conversion (frame-rate conversion), as well as up, down, and crossconversion, the KudosPro platform offers a cost-effective range of converters to suit all applications, including international program exchange; content repurposing for Internet, TV, and Blu-ray™ distribution; and high-density teleport and satellite distribution.
ROUTING
Vega Asymmetric Router — Now Available With AES Digital Audio I/O


The Vega 2RU 96-port and 4RU 192-port routers provide compact video and audio solutions with choice of copper and/or fiber interfacing. With its new I/O card, Vega can now route AES digital, supporting data rates up to 96KHz, full-channel routing capability, and rate conversion on all ports. Each rate converter can be independently enabled or bypassed. In addition, Vega can now be configured as an all-audio router or as a mixture of SDI video and AES audio.