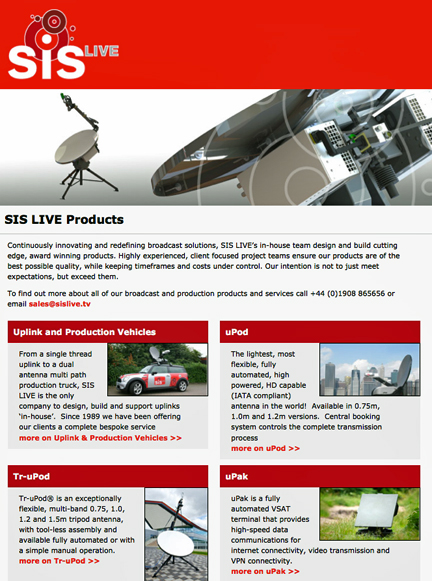 [SatNews] SIS LIVE has deployed its new 1.8m vehicle mounted antenna DriveForce®.
DriveForce delivers high bandwidth transmissions with the ability to transmit at any location including those, such as links golf courses, where exceptionally windy conditions prevail. SIS LIVE is currently operating a new dedicated DriveForce SNG truck for Sky and has launched an additional six DriveForce vehicles to support Sky Sports News and other news and sport customers. The DriveForce system has already received tremendous feedback from operators and clients.
With increasing demand for high bandwidth HD transmissions, many existing systems use mounts developed for small aperture antennas, bolstered to take a larger reflector, thus compromising the design. With DriveForce, SIS LIVE have adopted a 'grass roots' approach, ensuring that the mount is optimized to carry the large antenna and capable of operating in wind speeds of up to 60mph, almost double that of competing products. The ultra-high performance carbon fibre system is fully automated, capable of very high bandwidth or dual path transmissions and incorporates SIS LIVE's award-winning differential antenna control technology to find and track any satellite within seconds.
SIS LIVE has invested heavily in accurate tooling and high quality, low tolerance manufacturing processes, ensuring optimal quality and performance of its antennas. This significant investment has enabled the development of units which feature high levels of integration and are extremely lightweight due to the extensive use of composite materials.
Additionally, SIS LIVE has put together a working group to explore the technology and workflows required to deliver live, 4K, multi-camera event coverage...
...from an outside broadcast unit, culminating in a field test at St James' Park on February 2nd. Working with major camera and equipment suppliers, SIS LIVE has conducted proof of concept tests at base using a range of cameras coupled with its latest 3G capable outside broadcast unit OB 14. All recent SIS LIVE trucks have been built to be 3G capable, designed to handle 4K and HD signals. This has involved testing of signal flows, the use of lenses suitable for live event coverage, as well as the integration of recording technology.
Testing continued on 2nd February with a Premiership football match featuring Chelsea and Newcastle captured in full 4K using the Sony F65 camera paired with a Fujinon 75mm-400mm lens, recording to the camera's onboard 256gb flash memory cards. Additionally, one of Psitech's 4K Vortex systems and a specialist engineer were flown over from the United States to take part in the testing. Through this, SIS LIVE has gained experience in manipulating 4K pictures within an OB truck setting, and experimented with the capability of the Psitech device to understand its potential applications in the live sport genre.
SIS LIVE's camera operatives gained invaluable experience operating the F65 demonstrating how 4K acquisition requires a different approach to camera operation; in effect, shooting wider, which then allows VT operatives and production staff to create multiple shots from the same camera position.