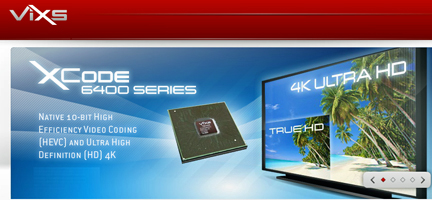 [SatNews] ViXS Systems Inc. (TSX: VXS) has announced that Panasonic has selected ViXS' XCode 6403 System-on-Chip (SoC) for their latest Ultra HD 4K Television line up.
By using ViXS' XCode 6403 SoC, Panasonic becomes the first television manufacturer today to launch a consumer ready television with the ability to decode full Ultra HD 4K content.
The Ultra HD 4K revolution has just begun, and, as more Ultra HD 4K content is produced, the need for an Ultra HD 4K SoC becomes absolutely critical in order for manufacturers to meet the surging demands by consumers for 4K Ultra HD content. The XCode 6400 is the first SoC to successfully support Ultra HD 4K High Efficiency Video Coding (HEVC) Main 10 Profile, empowering video/display product manufacturers to quickly and seamlessly transition to the Ultra HD 4K market. The XCode 6400 SoC can decode HEVC-based content and display resolutions up to Ultra HD 4K (3840x2160 pixels) at a full 60 frames per second. ViXS is an active contributor to the HEVC Standard and was a leading proponent of 10-bit media processing during the development of the HEVC technical specifications. The main advantage of 10-bit media processing is higher color bit depth allowing for smoother color transitions in video, resolving color-banding issues, and bringing more than 1 billion colors to life in Ultra HD.
Panasonic will demonstrate their new Ultra HD 4K Television AX800 series at the 2014 International CES, January 7-10, at the Las Vegas Convention Center (Central Hall – Booth #9806). ViXS will demonstrate the power of its XCode 6400 family at the 2014 International CES, January 7-10, at the Las Vegas Convention Center (South Hall 2 - MP25953).
The ViXS infosite is located at: http://www.vixs.com/