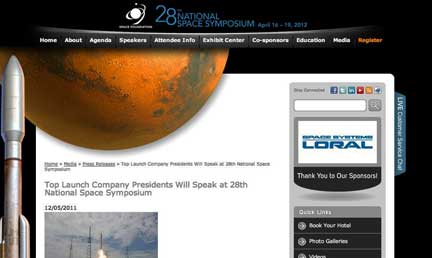 [SatNews] Bring in the power of the presidents for the Space Foundation...
The Space Foundation has assembled a dynamic panel for the first morning of its 28th National Space Symposium featuring presidents of leading launch companies:
Michael C. Gass, president and CEO, United Launch Alliance
Francis X. McKenna, president, International Launch Services
Clayton Mowry, president, Arianespace Inc.
Gwynne Shotwell, president, SpaceX
Before becoming president and chief executive officer for United Launch Alliance (ULA)
,
Michael Gass
was
vice president and general manager of space transportation for Lockheed Martin Space Systems Company
. He was also vice president, Atlas/Evolved Expendable Launch Vehicle (EELV) programs, for Lockheed Martin Space Systems; and vice president of the Atlas launch vehicle program. Gass attended the Sloan Fellows Program at the Massachusetts Institute of Technology where he earned a master's degree in management. He also graduated from Lehigh University with a Bachelor of Science degree in industrial engineering.
Francis McKenna
was named
president of International Launch Services (ILS) after serving two years as vice president and deputy of ILS.
In August 2008, he became the co-chairman of the ILS board of directors. McKenna has more than three decades of experience in the aerospace and space launch businesses, with Martin Marietta and Lockheed Martin Corporation, which was a partner in ILS until October 2006. McKenna earned a bachelor's degree in economics from Stetson University in Deland, Florida.
Clayton Mowry
became
president of the Washington, D.C.,-based Arianespace, Inc.,
in August 2001. Before joining Arianespace, Mowry served for six years as executive director at the Satellite Industry Association (SIA) and was a senior international trade specialist with the U.S. Department of Commerce's International Trade Administration. Mowry also served in various positions on election campaigns for U.S. presidential and congressional candidates and on personal staffs in the House of Representatives and the Senate. He earned a Master of Business of Administration from Georgetown University, Washington, D.C., and a Bachelor of Arts in politics and government from Ohio Wesleyan University, Delaware. 
President of Space Exploration Technologies (SpaceX)
,
Gwynne Shotwell
previously served as SpaceX vice president of business development. Active in the professional aerospace community as an executive member of the California Space Authority board of directors and head of the Frank J. Redd student scholarship competition, Shotwell has developed curricula and taught courses in systems engineering. She has authored papers in a wide variety of areas from standardizing spacecraft/payload interfaces to Space Shuttle integration and reentry vehicle operational risks. She earned a bachelor's and a master's degree in mechanical engineering and applied mathematics from Northwestern University.