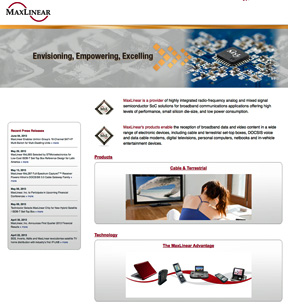 [SatNews] MaxLinear Inc. (NYSE: MXL), a provider of integrated radio frequency (RF) and mixed-signal integrated circuits for broadband communications applications, has announced that
Unitron Group of Belgium
has selected
MaxLinear
's
MxL584 Full-Spectrum Capture
™ (
FSC
™) eight-channel satellite
DVB-S/S2
receiver for its 16-channel SAT>IP multi-switch targeting
multi-dwelling unit
(
MDU
) applications. SAT>IP multi-switches extend the functionality of traditional satellite multi-switches to provide satellite TV content to IP-enabled devices such as tablets, laptops, smartphones, IP STBs and connected TVs. The SAT>IP protocol is developed and supported by
SES
.
Content distribution to multiple screens, video recording functionality and consumer adoption of IP-enabled devices are driving the demand for more satellite channels per household, as well as accelerating the transition to IP distribution. DBS operators and installers servicing large MDUs face the challenge of meeting these requirements in a cost-effective manner. Unitron's SAT>IP solution is a low cost and compact 16-channel SAT>IP multi-switch optimized for satellite content delivery to MDU complexes. It integrates RF loop-through functionality that enables cascading multiple devices. By using multiple Unitron SAT>IP multi-switches in conjunction with a single Quattro low-noise block (LNB) downconverter, DBS operators can serve IP-distributed satellite TV content to large MDUs.
Unitron's multi-switch leverages MaxLinear's four-input MxL584 Full-Spectrum Capture™ DVB-S/S2 receiver to realize the frontend functionality required for these applications. Due to its very low power dissipation, small size, and very lean bill-of-materials (BOM), two MxL584s are assembled into a small form factor multi-switch to deliver 16 satellite channels.
The MxL584 is part of the MxL500 family of 40-nm satellite Full-Spectrum Capture™ receivers that enable cost-effective and flexible multi-channel gateway and multi-switch solutions in a very compact form factor. The MxL584 integrates four FSC™ tuners, eight demodulators and all active front-end components, including low-noise amplifiers (LNA), into a compact and cost-effective 10 mm x10 mm QFN package. The device can receive complete 4.8GHz of satellite spectrum on its four inputs. As a result, it simultaneously receives and demodulates any combination of eight DVB-S/S2 channels located arbitrarily in the satellite spectrum. The MxL584 supports remote monitoring of satellite signal conditions, which allows MDU operators to maintain their installation directly from a service center. The ultra-low power receiver is fully compliant with the requirements of Energy Star and the European Code of Conduct for Digital TV Services and Broadband Equipment.