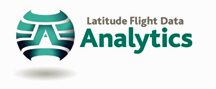 [SatNews] Latitude Technologies has launched Latitude Flight Data Analytics™ (LFDA), the company's web-based flight data analytics platform.
LFDA is a feature-rich, user-friendly dashboard that completes Latitude's end-to-end FDM system. LFDA offers multiple graphical presentations of flight data per individual flight—even within a multi-segment day—for aircraft equipped with Latitude's IONode™ lightweight flight data recorder.
LFDA users have the ability to put each flight in context—both on a map display and using Latitude's proprietary animated video playback feature. Users are able to view data from earlier flights as well as the most recent flights. The Exceedances and other inflight events are flagged in the aircraft's flight data log for immediate scrutiny by the operator. As well, users have the ability to download flight data in CSV format for maintenance reporting, safety and training, and other operational purposes.
Latitude Flight Data Analytics is being sold exclusively by annual, renewable subscription. Subscriptions are per IONode ION3 or ION4 device and per aircraft. Latitude Technologies Corp., headquartered in Victoria, British Columbia, is a vertically integrated manufacturer and provider of flight data, flight following, and satellite communications equipment and services.