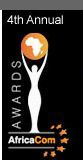 [SatNews] It's always satisfying to be honored by one's peers.
Gateway Communications, the leading supplier of African telecommunications services, has received the 'Customer Service Excellence Award' at this year's AfricaCom Awards. These prestigious awards recognize industry leaders and innovators in Africa's telecommunications sector.
"It is an honour for us to receive this accolade and to be placed among the top telecommunications companies in Africa," says
Mike van den Bergh
,
CEO, Gateway Communications
. "
Customer service is at the heart of what we do. We will continue to invest in infrastructure and introduce innovative solutions and products to the market.
"
The 'Customer Service Excellence Award' was given to Gateway Communications for the company's focus on putting customer needs first and delivering quick and reliable service. Gateway Communications offers regular performance reporting, on-the-ground expertise and cutting edge technology to resolve problems efficiently and timeously.