[SatNews] With features unparalleled by any other SNG truck in Australia, the newest addition to GlobeCast Australia's fleet launched at the world's most iconic V8 Supercar event, the Bathurst 1000, last week.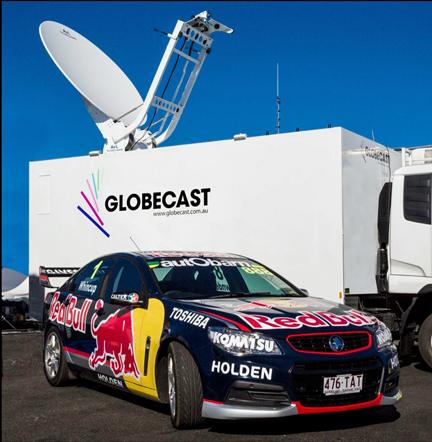 The most flexible SNG vehicle in the region, the truck can perform the job of two vehicles in one. With its C- and Ku-band amplifiers on board, it can change from a standard definition domestic uplink, to a high definition C-band international sports uplink in just minutes, whilst in the field. Designed with complete system redundancy, the addition of another power source and an external antenna sees the vehicle capable of transmitting to two different satellites at the same time—completely redundant from each other.
Further improving the reliability of transmission, the vehicle enables simultaneous broadcasts across the country and the wider Asia Pacific region without the added cost of a second uplink. Adding to the largest Digital Satellite News and Sport Gathering fleet in Australia, New Zealand and the Pacific Islands, the new SNG truck also features the latest NS3 modulation, MPEG4, 4:2:2, 10-bit High Definition encoders and AVL technology, with all equipment backed-up by uninterruptable power supply (UPS) units.
Unique in its ability to offer production value where others cannot, the truck has a dedicated production space, with monitoring, routing, and ample space to add equipment to facilitate any job. An omniscient presence at the Bathurst 1000, GlobeCast Australia also had a total 114 GlobeCam™ cameras deployed across the event. Internationally recognised at the recent 2013 IBC Awards, GlobeCam™ is the world leader in live, point of view camera technology. The camera brought audiences into the action with 109 GlobeCam™ cameras inside 26 cars and 5 fixed cameras on the iconic Mount Panorama track.